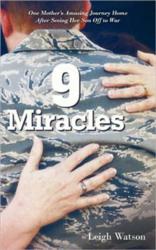 Corpus Christi, TX (PRWEB) October 14, 2011
Leigh Watson is committed to helping others realize that God is never far away and shares her personal experiences in a testament to her firm belief in His unwavering and unconditional love with the publication of her inspirational new nonfiction, 9 Miracles: One Mother's Amazing Journey Home After Seeing Her Son Off to War (published by CrossBooks).
Written with a conversational approach, it has a refreshingly broad appeal to a wide audience. 9 Miracles crosses genres as it weaves Watson's consistent affirmations of God's omnipresence and the benefits that faith can bring. To illustrate the power of God in her own life, she invites readers to join her on a journey filled with transformation and self-reflection.
Most Americans have been touched by the Iraq war in some form or another, and Watson, who humbly describes herself as "just a plain ole ordinary Christian Mom," is one of the thousands of parents with a child in the military. When her son, Luke, joined the Air Force, she knew he would likely have to eventually face an overseas deployment.
When the time came for Luke to head off to Iraq and serve his country, Watson's husband was unable to accompany her. She admits it wasn't easy, but she summoned the strength to make the trip alone, and this would be the catalyst for a remarkable string of events that would introduce her to extraordinary people and circumstances that she "can only describe as heaven-sent."
At less than 100 pages, 9 Miracles is a delicately crafted, touching story filled with passionate testimonials to the incredible power of faith without being long-winded or preachy. "God is willing to work a miracle in your life today, if you will only trust Him," Watson asserts.
About the Author
Leigh Watson is a devoted wife and mother who always made it a priority to instill good manners and solid values in her children and lead by example. Born and raised in Corpus Christi, Texas, she and her husband currently live in San Antonio. Watson is self-employed and enjoys playing tennis, cooking and watching sports.
CrossBooks, a division of LifeWay Christian Resources of the Southern Baptist Convention, is a Christian publishing company committed to bringing more Christian voices into the publishing industry. For more information, visit http://www.crossbooks.com.
###