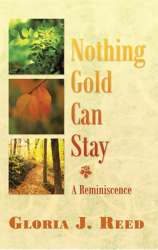 Aurora, CO (PRWEB) October 13, 2011
Many people have no trouble remembering just one time that changed their life. Whether for better or worse, times of extreme change stand out in the memory. In her new book Nothing Gold Can Stay: A Reminisce (published by WestBow Press), author Gloria J. Reed remembers one time and place that formed her into the woman she is today.
The time was the years between the end of World War II and 1957; the so-called Golden Age of America. America's participation in World War II had led it into a revitalization of sorts after the Great Depression of the 1930s. A sense of national pride suffused the people, and American manufacturing led the world. "It was a time when a person's word meant something," Reed says. "Responsibility for oneself was paramount, and neighbor helped neighbor."
Just as important as the time, Reed also explores the important place of her realization: the farm she grew up with her family. "We lived close to nature and its many cycles so I perceived the nuances of one season folding into another," Reed writes, "the lunar phases, the changes in shadow throughout the day, the plants and insects and the farm animals."
Reed also describes the hardy people of her childhood. "I wanted to emphasize that the hardships of immigration, the Depression, the war and farm life in general made them stronger and more about to cope with life. Expecting bailouts or help from the government would have been a completely alien concept."
Nothing Gold Can Stay is a richly-described reminiscence of childhood on an extended family farm in the late 1940s and 1950s. It is written in a beautifully lyrical style and told with disarming honesty. A unique history of one unforgettable place in time, it details a distinct way of life in an America of the past.
About the Author
Gloria J. Reed was an educator for 32 years specializing in literacy. She has written articles for a local publication. Her passion is reading and writing in a wide variety of genres. She lives in Aurora, Colorado, with her husband, Allan. They have three grown sons. Nothing Gold Can Stay is her first book.
WestBow Press is a strategic self-publishing alliance of Thomas Nelson, the world's premier Christian publisher, and Author Solutions, Inc. (ASI)—the world leader in the fastest-growing segment of publishing. Through this partnership, authors benefit from the rich publishing heritage of Thomas Nelson and the speed-to-market advantages of the ASI self-publishing model. Titles published through WestBow Press will be evaluated for sales potential and considered for publication under the Thomas Nelson imprint. For more information, or to start publishing today, visit westbowpress.com or call 866-928-1240.
# # #