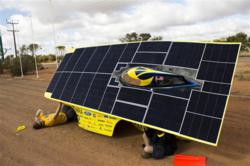 The Outback is very dangerous given the extreme temperature swings, lack of communication, infrastructure, and water. Top that off with not having adequate lighting, and it is easy to find yourself in trouble very quickly
Vista, CA (PRWEB) October 13, 2011
FoxFury Lighting Solutions, the official lighting partner of the University of Michigan Solar Car team (UMsolar), will illuminate UMsolar's race crew and Quantum solar car in the Australian Outback during the 2011 World Solar Challenge. This grueling 1,800 mile four-day biennial race across the desert begins Sunday October 16 in Darwin. Proper lighting will be vital in keeping UMsolar's race crew safe and Quantum well maintained.
"The Outback is very dangerous given the extreme temperature swings, lack of communication, infrastructure, and water. Top that off with not having adequate lighting, and it is easy to find yourself in trouble very quickly," said Rachel Kramer, UMsolar Team Lead.
UMsolar performed a mock race earlier this month in the Outback and benefited from FoxFury's portable LED lighting. The race crew utilized FoxFury's wide angle LED headlamps, compact LED flashlights and portable rechargeable LED area lights to perform maintenance on Quantum.
"During our 3000 km drive across the Outback, many times we used the FoxFury equipment to flag in our vehicles to the proper camp sight," said Ethan Lardner, UMsolar Global Operations Director.
UMsolar will be competing against 36 teams. All teams are required to be self-sufficient and must set up camp at night in order to inspect and maintain their vehicles. FoxFury's lights will help increase UMsolar's efficiency and enable them to quickly and safely set up camp in the dark.
UMsolar Strategist, AJ Trublowski states, "I could see the strobe feature of the FoxFury Rook flashlight several minutes before I was even in radio range!"
If UMsolar wins this race, they will be the first American Student Team to win the World Solar Challenge. Be sure to visit the UMsolar website for updates before and during the race.
About UMsolar:
UMsolar is an entirely student-run organization that designs and builds solar electric vehicles. The team races both nationally and internationally. Since its establishment in 1990, the team has built 10 vehicles, won the American Solar Challenge six times, and placed third in the World Solar Challenge four times. The team is recognized as the most successful team in North America.
About FoxFury:
FoxFury Lighting Solutions creates unique and cutting edge lighting products that reflect the needs of our customers, who demand quality and dependability. FoxFury is best known for its niche LED headlamps designed for specific markets including Fire, Industrial, Hazardous Area, Law Enforcement, Forensics and Recreational. FoxFury was formed in August 2003 and operates out of Vista, CA, USA
###