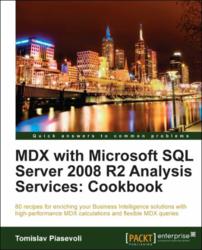 A must read book for any SSAS professional.
UK (PRWEB) October 15, 2011
Birmingham: Packt is pleased to announce the publication of MDX with Microsoft SQL Server 2008 R2 Analysis Services Cookbook, a comprehensive guide comprising of 80 practical, hands-on cookbook recipes, illustrating various techniques to enrich Business Intelligence solutions with high-performance MDX calculations and flexible MDX queries. Authored by SQL Server specialist Tomislav Piasevoli this cookbook will help readers format, optimize, dissect, and debug MDX calculations and queries.
Microsoft SQL Server is a relational model database server produced by Microsoft. It integrates services and reporting features that enable users to do more with their data such as query, search, synchronize, report, and analyze. SQL Server 2008 R2 accelerates the capabilities to scale database operations.
MDX with Microsoft SQL Server 2008 R2 Analysis Services Cookbook enables developers to efficiently work with time, strings, metadata, calculated members, and explains how to implement MDX solutions in a precise context. Comprising of advanced topics such as enhancing cube design with utility dimensions and context-aware calculations, readers will be able to register SSAS-related assemblies and use stored procedures.
Filled with practical, task-based, and immediately usable recipes, this book ensures that solutions are presented in a clear step-by-step manner. Readers can create time-aware and context-aware calculations and combine MDX with utility dimensions as the advanced topics also cover parent-child hierarchies, recursion, random values, and complex sorts.
Microsoft Developers who want to improve their solutions using MDX will find this book to be a hugely useful and effective book. This book is out now and available from Packt and other booksellers in both print and multiple eBook formats.
Packt's SQL Server pipeline:
Packt Publishing has published many books on Microsoft SQL Server, including: Expert Cube Development with Microsoft SQL Server 2008 Analysis Services, Microsoft SQL Server 2008 R2 Master Data Services, and Microsoft SQL Server 2008 R2 Administration Cookbook. Visit Packt for detailed information on each book.
###