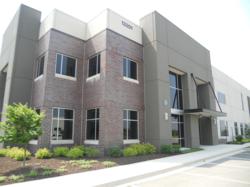 Landover, MD (PRWEB) October 13, 2011
Mount Vernon Printing, a Consolidated Graphics Company, has signed a lease for a new 48,000 square foot LEED Certified building in Laurel, MD and plans to move print and mail operations in early 2012.
The building is located in The Brick Yard, a 65-acre business park designed to have limited impact on the environment. Located off Contee Road near U.S. Route 1 in Laurel, MD, the new building will provide Mount Vernon customers and employees easy access from I-95, the Washington-Baltimore Parkway, the Capital Beltway and the new Intercounty Connector.
Mount Vernon expects to recognize greater efficiencies at the new building though an enhanced production workflow layout and increased energy efficiency. The move to a LEED Certified building continues the Mount Vernon commitment to earth-friendly practices.
With the increasing growth of digital printing, Mount Vernon will be greatly expanding it's digital capabilities with additional digital presses, including a Xerox iGen, Xante Digital Envelope Press and two Kodak Digimasters. The addition of these presses, coupled with Mount Vernon's growing direct mail capabilities will greatly increase the ability to meet the demands of producing efficient, targeted print communications.
"We are excited to usher Mount Vernon into the next phase of it's growth. Our new building will give us the ability to be much more efficient in our production process and the new additions in our Digital Department helps to give us the firepower to meet our customers needs," said Mount Vernon President Russell Price.
Mount Vernon Printing is a union, full service commercial offset, web and digital printer utilizing the latest print communication technologies and strategies to deliver the highest quality material in the most efficient manner possible.
Mount Vernon Printing is a Consolidated Graphics Company. With 70 locations, Consolidated Graphics has the largest and most technologically advanced sheetfed printing capabilities in North America, a sizable and strategically important web printing capability, industry-leading digital printing services and a rapidly growing number of fulfillment centers and proprietary Internet-based technology solutions.
###