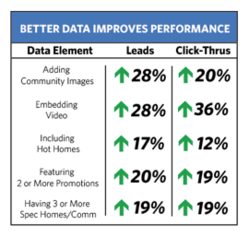 "Builders who were taking advantage of the sites' rich media and data features saw dramatic improvements in performance over those who didn't utilize the enhancements."
Austin, TX (PRWEB) October 12, 2011
Builders Digital Experience (BDX), a leading provider of digital marketing solutions for new home builders, today released the latest performance details for the company's flagship websites, NewHomeSource and Move New Homes showing significant increases in leads and click-throughs for builders.
BDX recently launched new versions of NewHomeSource and Move New Homes, the #1 and #2 new home websites.* The new sites create a more useful and useable home shopping experience and feature a host of rich media upgrades including larger images and video galleries. The BDX sites also allow builders to highlight hot homes, promotions and spec homes for consumers. The company analyzed builder data across the two new sites and found that the builders who were taking advantage of the sites' rich media and data features saw dramatic improvements in performance over those who didn't utilize the enhancements.**
"This is exciting for builders because we've seen statistics from other industries about how the persuasive and emotional impact of rich media and robust data can improve performance. But for the first time, we are now seeing the evidence of this in our industry," said Tim Costello, CEO of BDX. "And we're not just talking a couple of percentage points. For example, on our leading new home sites, builders with embedded video had nearly 30% more leads."
A Closer Look At BDX Performance Findings

Builders who embedded video with their listing saw a 28% increase in leads and a 36% increase in click-throughs.
When a builder included images of amenities like the pool, clubhouse, or golf course, they received 28% more leads and 20% more click-throughs.
By highlighting a community's Hot Homes, builders saw their leads rise by 17% and click-throughs increase by 12%.
Featuring promotions lead to a 19% increase in both leads and click-throughs.
Builders with 3 or more spec homes saw a 19% increase in both leads and click-throughs.
Latest Results Lead To Additional Value For Builders
These most recent performance results help further position BDX as the one-stop for builder marketing resources. The BDX Listing Bundle is designed to help builders "List Once and Be Everywhere". In addition to NewHomeSource and Move New Homes, with BDX, a builder's listings are syndicated to over 300 partners across the Internet reaching over 40 million potential new home buyers each month*.
Builders who are interested in learning more about improving the performance of their new home listings are encouraged to download the company's whitepaper on Improving Listing Performance, available at: http://www.thebdx.com/whitepapers. To learn more about BDX solutions, visit http://www.thebdx.com or reach the company directly at info(at)thebdx(dot)com.
About Builders Digital Experience
Builder's Digital Experience, LLC (BDX) from Builder Homesite, Inc. and Move, Inc. (NASDAQ:MOVE) was founded in October 2009 to combine the industry's leading new home resources under one roof and offer builders innovative online marketing options, streamlined customer service and support, and greater value. Capitalizing on over 11 years of building industry experience, BDX includes the top two new home websites, NewHomeSource from Builder Homesite and Move New Homes. Additional services include video production, rich media rendering, mobile search, custom website production, connections to real estate professionals, and more. Together these online and interactive resources help builders create a true digital experience for their buyers. For more information, visit http://www.thebdx.com.
###
This press release may contain forward-looking statements, including information about management's view of Move's future expectations, plans and prospects, within the safe harbor provisions under The Private Securities Litigation Reform Act of 1995. These statements involve known and unknown risks, uncertainties and other factors which may cause the results of Move, its subsidiaries, divisions and concepts to be materially different than those expressed or implied in such statements. These risk factors and others are included from time to time in documents Move files with the Securities and Exchange Commission, including but not limited to, its Form 10-Ks, Form 10-Qs and Form 8-Ks. Other unknown or unpredictable factors also could have material adverse effects on Move's future results. The forward-looking statements included in this press release are made only as of the date hereof. Move cannot guarantee future results, levels of activity, performance or achievements. Accordingly, you should not place undue reliance on these forward-looking statements. Finally, Move expressly disclaims any intent or obligation to update any forward-looking statements to reflect subsequent events or circumstances.
** Study based upon Newhomesource.com website and all communities published during the study look-back period of June and July 2011 . Performance statistics, by community, were correlated to counts ("completeness") of certain data, such as descriptions, pictures, videos, promotional text and other data assets. The findings represent the percentage gains in lead and click-through performance of those communities having the desired data or with the data present in larger quantities, versus those with lesser amounts or absent data. BDX considers these results to be significant and representative of the average performance gains that could be achieved by those builders who currently have none or little of the data now, if such data was provided in the future. As with any correlative study, there may be other unknown factors that account for the results seen; and BDX does not guarantee specific results for any builder.