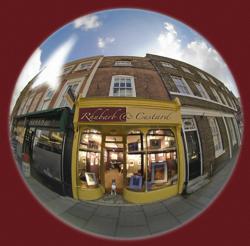 "The brave new world of digital has launched photography into everyone's hands, and yet never have people been so confused as to how to make the most out of their cameras. Rhubarb And Custard now unlock the secrets of good photography.
Windsor & Eton, UK (PRWEB UK) 16 October 2011
Rhubarb & Custard Photography, Eton today launches a brand new range of photography workshops, courses and masterclasses for all levels of photographer.
Christmas has come early this year for anyone who likes photography! Rhubarb & Custard, an Eton based boutique photo gallery and photography business has completely re-launched its already successful Photography courses, with an amazing array of 1 to 1 lessons and coaching, a 10 Week Beginners Course, Evening Workshops, and Pro-Level Masterclasses.
Offering something to everyone the new roundup of classes are carefully tailored for the total beginner, the keen amateur, right through to the experienced pro.
"The brave new world of digital has launched photography into everyone's hands, and yet never have people been so confused as to how to make the most out of their cameras." Says Rhubarb & Custard's founder and owner, Halid Izzet. "We hope that our expanding range of photography tuition offers the much needed help in telling your pixels from portraits and your SLRs from your HDRs. Our aim is to inspire people to get out and take control of the digital revolution"
Gift Vouchers are sold for all the lessons and courses on offer.
Free Lessons every Saturday – a chance to visit the Gallery, meet some of the team, and find out about the various services on offer while learning a trick or two over a relaxed cup of coffee.
Beginners Sunday Workshops - Levels 1 and 2; Perfect for a concentrated couple of doses of tuition in 1 day each. These single day workshops are great to get familiar with the fundamentals of photography and the workings of their cameras, get students away from using 'automatic mode' and gain in confidence in many different areas.
10 Lesson Beginners Course starts at the very beginning and is designed to take students from Fully Automatic to a high level of proficiency in just 10 weeks! With the next course starting on November 1st, students should be well versed in many aspects of photography by Christmas !!
Evening workshops are on a set theme or subject and allow the attendees to get to grips with the details of a particular part of photography, from Portraiture to Landscapes, from software to hardware, the classes allow students to concentrate on one development area at a time. Prices start from just £35 per person for a 2 hour workshop.
1-on-1 Lessons and Coaching  start from just £17 per person per hour (based on their 20 x 2 hour lessons package) and are tailored to the students exact requirements and objectives. Depending on the subject classes could be in the Gallery , in the studio, or 'on location'
Lastly, the [Pro-Level Masterclasses are designed for those who already have a good grasp of photography but wish to take their skills up to a professional level. The devil is in the detail, and these masterclasses really get into the finer points of each of the many subjects covered.
Not only have the workshops and lessons been added to, but the team of tutors has also been expanded to include a number of seasoned professionals. Halid Izzet, founder and owner of Rhubarb & Custard Photo Gallery, heads the team up and runs all the 1 to 1 lessons, as well as several of the group courses. Steve Bishop, chairman of the Windsor Photographic Society heads up the Beginners Workshops and David Newton, seasoned, well respected and well published, runs the majority of the Pro Level Masterclasses. A local team providing a high level of local service.
A few up coming classes are as follows…
Sat 15th Oct free Taster Lesson 10:30am - 1 hour
Sun 16th Oct Level 2 - Intermediate Photography Workshop 10:00am - 6 hours
Wed 19th Oct Creating Movies with your Digital SLR 7:00pm – 2 hours
Thu 20th Oct Adobe Lightroom 3 - Slideshow, Web and Print Module 5:30pm - 2 hours
Sat 22nd Oct free Taster Lesson 10:30am - 1 hour
Sun 23rd Oct Creating Movies with a Digital SLR Pro Masterclass 10:00am - 5 hours
Wed 26th Oct Photography with your iPad / iPhone 7:00pm - 2 hours
Thu 27th Oct Adobe Lightroom 3 - Presets, Plugins and Add-ons 5:30pm - 2 hours
Sat 29th Oct free Taster Lesson 10:30am - 1 hour
Tue 1st Nov Beginners' 10 Week Photo Course 5:30pm - 1 1/2 hours
Wed 2nd Nov Black & White Photography with Digital 7:00pm - 2 hours
Sat 5th Nov free Taster Lesson
In addition to Photo Lessons and workshops, Rhubarb & Custard also offer
Fine Art Photography Exhibitions and Sales - a constant source of new and exciting work with different photographers exhibited every month, 
Portfolio Reviews for up and coming photographers
Photography lessons, workshops and coaching
Family, Wedding, Special Event and even pet photography
Printing and developing of your own photos
Framing & Mounting
Photoshop and Photo re-touching
Photo Restoration of Damaged and Antique Photos
Scanning & Burn to DVD
Commercial and Business photography
Passport Photos
Halid Izzet
Rhubarb & Custard Photo Gallery
4 Eton High Street
Eton
Berks
SL4 6AS
01753 676 404
info(at)rhubarbandcustard(dot)biz
###