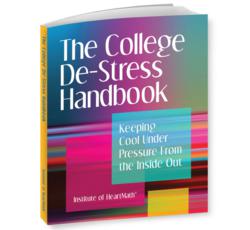 "Today's college students are experiencing higher education much differently than their parents' and previous generations."

– Jeff Goelitz, HeartMath Educational Specialist, Program Developer
Boulder Creek, Calif. (PRWEB) October 13, 2011
The Institute of HeartMath® is answering a growing student stress epidemic with its new College De-Stress Handbook, which is being released today. HeartMath officials say the book is intended to help college students recognize and self-regulate the high stress associated with college life and college-level academics.
The College De-Stress Handbook incorporates the Institute of HeartMath's (IHM) more than 20 years of researching stress, emotions and how we learn. IHM is an accredited research and education organization (http://www.heartmath.org) whose work is recognized around the world and whose methods and technology have been used by millions of people. The institute's research has been published in such prestigious peer-reviewed journals as American Journal of Cardiology, Integrative Physiological and Behavioral Science and Alternative Therapies in Health and Medicine.
The methods and techniques in the College De-Stress Handbook have been proven in numerous field, clinical and independent studies to be effective strategies for reducing stress, test anxiety, insomnia and problems stemming from digital overload, and improving relationships, time management and decision-making.
Economic conditions and the pressure of today's highly competitive job market are contributing to record levels of stress in higher education. The findings of the latest CIRP Freshman Survey showed that college students were more stressed than ever. The emotional health of college freshman – more than 200,000 were surveyed from fall 2010 to spring 2011 – was at its lowest point since 1985, the first year of the survey.
"Today's college students are experiencing higher education much differently than their parents' and previous generations," said the book's co-author, Jeff Goelitz, an educational specialist and program developer for IHM. "Students are told college can be a fun and memorable time, but today's students are undergoing a surprising amount of stress and can benefit from resources to help them cope with stress in healthier ways."
CIRP Director John H. Pryor agrees that stress is a major concern for college students.
"If students are arriving in college already overwhelmed and with lower reserves of emotional health, faculty, deans and administrators should expect to see more consequences of stress such as higher levels of poor judgment around time management, alcohol consumption and academic motivation," Pryor said in a statement about the Freshman Survey.
The College De-Stress Handbook takes students on an 82-page journey in which they learn about the mechanics of stress and techniques to reduce it while improving health, cognitive ability, decision-making skills and natural balance. Personal stories and tips address common student issues such as problems sleeping and time management.
Goelitz and co-author Robert A. Rees, Ph.D., a former dean at the University of California, Los Angeles and former director of Education and Humanities at IHM, wrote the handbook to help students understand how stress affects learning and their mental, emotional and physical states and offer effective techniques and how-to's for developing skills to manage the stress associated with college life.
The College De-Stress Handbook is available in paperback for $12.95 and will soon be released in e-book format for $6.95 so students can access it on computers and other electronic reading devices.
One college official observes in the book that a failure to recognize stress is a problem for many students. "I see many students who experience numerous symptoms of stress like headaches, dizziness, low energy, insomnia, eating disorders and lack of concentration, but they don't always associate those symptoms with stress," said Henry J. Kahn, M.D., director of student health and counseling services at the University of California, San Francisco.
Goelitz said the prevalence of stress among students today has forced many colleges around the nation to acknowledge the problem and take action in campus health and wellness centers. "There is a growing body of evidence suggesting that decreasing student stress can bring tremendous benefits for students in higher education."
Goelitz noted these benefits include a decrease in student transfers and alcohol abuse and an overall improvement in the learning environment for students and faculty.
"We're excited to see this valuable information in colleges and universities across the country and abroad." Goelitz said. "We've already seen the techniques included in the handbook produce incredible outcomes in various clinical settings focused on reducing stress and increasing performance. For college students who take this resource to heart, we expect to see incredible benefits as well."
Goelitz and Rees strongly believe students who use the College De-Stress Handbook can greatly improve their college experience. Their final message in the handbook says, "Your reward will be a happier, more resilient life, with a lot less energy drain, frustration and fatigue."
The College De-Stress Handbook currently is available on the Institute of HeartMath's website, http://www.heartmath.org, and will be available through online retailers in coming months.
HeartMath has additional resources for college students at heartmath.org/collegehandbook, including free self-assessment tools, articles, downloads and more.
For more information about HeartMath's education and professional development programs, visit http://www.heartmath.org/education. Learn more about HeartMath's latest resources by joining its social networking pages on Facebook and Twitter and its YouTube channel.
About the Institute of HeartMath:
The Institute of HeartMath, http://www.heartmath.org, is a 501(c)(3) nonprofit research and education organization dedicated to teaching the principles of heart-based living around the world and promoting global coherence by inspiring people to connect with the intelligence and guidance of their hearts. IHM has been conducting scientific research on the physiology of emotions and the science of the heart for two decades. IHM, a world leader in stress reduction and emotion-management research, was founded in 1991 by Doc Childre. Through its research and education divisions, the institute has developed practical tools, education programs and services – collectively known as the HeartMath System – for the mental, emotional and physical benefit of children through seniors without regard to their social, economic or cultural status.
###