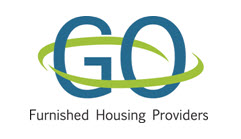 "Kelly is a deeply respected pioneer in the corporate housing industry and is an invaluable resource to tap when trying to grow an industry-leading brand with a reputation for quality, service and constant improvement."
Phoenix, Ariz. (PRWEB) October 12, 2011
GO Furnished Housing Providers has introduced Kelly Regan as its Executive Vice President. Regan will put her 25 years of corporate housing industry expertise behind efforts to build a solid distribution channel of best-in-class providers, ensure consistent levels of service standards are met, and lead continued partner engagement efforts.
"The role of the Executive Vice President of GO Furnished Housing Providers will be to manage the company's day-to-day activities and work toward long-term strategic milestones on behalf of the Board of Managers. In addition, the Executive Vice President is tasked with making certain that GO's vision of having a partnership of the leading corporate housing providers is consistently implemented across all of GO's partners, vendors and suppliers," says Gary Brown, president of Furnished Quarters, the largest provider of temporary furnished apartments in New York City, with apartments also in suburban New York, New Jersey as well as in Boston.
"Kelly is a deeply respected pioneer in the corporate housing industry and is an invaluable resource to tap when trying to grow an industry-leading brand with a reputation for quality, service and constant improvement. We are thrilled to be adding her leadership and expertise to the GO brand," adds Brown.
Regan will oversee the continuing development, execution, innovation and monitoring of GO's operations and service delivery protocols, sales and marketing efforts, and technology infrastructure. In addition, she will ensure the company meets or exceeds financial targets.
"With the corporate housing industry being so commoditized, GO's mission and vision are refreshing," says Regan. "The customer is not always concerned just with price. Many want an experience that is stress-free, flawless and consistent. GO's offering of boutique-style accommodations with first class service is unparalleled. Knowing the owners of GO and their reputations in their respective markets, meeting the customers' expectations is an easy mission to accomplish."
Prior to joining GO, Regan helped open offices throughout the northeast for Execustay by Marriott, as well as focusing on a multitude of business threads including sales, operations, and associate and guest satisfaction. She then went on to BridgeStreet Worldwide where she was instrumental in the development and growth of its global partner network before transitioning to operations and becoming Regional Vice President of the northeast.
Regan holds a Certified Corporate Housing Professional designation and was on the originating board of directors for the Corporate Housing Professional Association, serving as president from 2000 to 2002.
GO Furnished Housing Providers is a collective of regional partners driven to uphold the industry's highest standards of accommodations and service. It was formed to better serve each partner's respective clients by providing one-stop shopping with a wider reach, and meet client demands for a high and consistent standard of service and quality.
Corporate housing is a growing segment of the lodging industry. GO Furnished Housing Providers is poised to serve customers coast to coast and in Canada, and lead the corporate housing segment of the hospitality industry.
GO Furnished Housing Providers partnership includes:

Blvd Suites Corporate Housing
ExecNet Properties
Furnished Quarters
Murphy's Corporate Lodging
Nika Corporate Housing
Prestige Accommodations
Priority Corporate Housing
Suite Accommodations
Suite Solutions
Suite Home Chicago
Synergy Corporate Housing
TP Corporate Lodging
About GO Furnished Housing Providers
GO is a national partnership of furnished housing providers with global partners in dynamic cities. Whether your clients are relocating or on a special assignment, GO provides best-in-class furnished housing in sought-after locations. Choose from an owner-managed partnership of providers that are dedicated to offering an outstanding product and experience. At GO, feel right at home—with stylish furnishings, comfortable surroundings and everything required for living well.
For more information, call 800-679-2160, email info(at)gofurnishedhousing(dot)com, or visit http://www.GOFurnishedHousing.com.
###