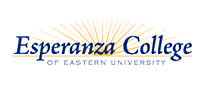 Philadelphia, PA (PRWEB) October 13, 2011
The Hispanic Choice Awards were presented at the Kimmel Center in Philadelphia on October 11 and Esperanza College of Eastern University, a Philadelphia Christian university, received the Education Champion of the Year (El Futuro) Award.
The Hispanic Choice Awards (HCA) honor and celebrate Latino professionals, organizations and businesses across all sectors throughout Pennsylvania, New Jersey and Delaware. Nominations are made via an online campaign and are open to the public. The HCA program highlights the meaningful collaborations and socially responsible impacts of the Latino community in the entire Delaware Valley.
Dr. Elizabeth Conde-Frazier, Dean of Esperanza College, said, "It's a humbling honor for Esperanza College to receive the Education Champion of the Year Award from the Hispanic Choice Awards. We accept it with great gratitude, on behalf of those whose visionary work founded this institution, and we understand that with this award comes the challenge for us to continue to strive for excellence in serving the students of Philadelphia. We accept both the honor and the challenge and we look forward to continuing to build on the positive impact we've been able to have over the past ten years."
About Esperanza College
Esperanza College is a School of Eastern University located at 4261 North 5th Street, Philadelphia, PA 19140. Esperanza College, a Philadelphia Latino college, seeks to provide members of the Hispanic and local communities a Christian faith-based education that is affordable and culturally appropriate so that they can continue their contributions to and leadership in their communities.
About Eastern University
Eastern is a Christian university dedicated to the teaching, development and preparation of men and women for productive lives of Christian faith, leadership and service. Offering urban, international, professional, seminary, graduate and undergraduate programs, Eastern University is located in St. Davids, PA, but offers programs at various sites throughout PA and overseas.
For more information about Esperanza College, visit: http://esperanza.eastern.edu/
###