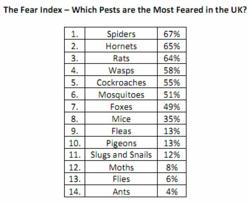 British homeowners are rightly becoming more concerned about wasp and hornet nests on their property than harmless house spiders
(PRWEB) October 14, 2011
Spiders – traditionally one of the most common phobias in the UK – are facing a strong challenge from hornets, rats and wasps for the title of most feared pests in the land. In a survey of 2,000 Britons by HomeServe, the home emergency experts, respondents were asked to rank their fear response to several common household pests out of 10, and the answers were used to calculate the fear index – a definitive table of the creepiest crawlies.
Hornets, wasps and mosquitoes scored highly, indicating that fear of being stung may be the biggest factor for many. Scuttling creatures like spiders and cockroaches also kept homeowners awake at night, and those perennial pests, rats, were nominated by many as their least favourite intruder.
Almost 1 in 10 (9.4%) of households reported rats invading their homes and gardens, with a massive 87% stating that they believed there had been an explosion in rat populations in their area over the past decade. Population increases were reported across a wide range of pests – in particular, UK homeowners felt that wasps, mosquitoes, foxes and mice were booming in numbers.
Many also reported seeing new, larger or foreign species of pests, with the rising worries over stinging insects attributed to newspaper reports of invading exotic species such as harlequin ladybirds and Chinese hornets. 67% noted a marked increase in the size of rats, with many stating that they were now scared of rats where they had not been before. When encountering a wasp or hornet in their home, 56% of respondents said that they would either open the window and leave the room, or tell their partner to deal with it – and the bravery of British men was called into doubt as figures showed that they were just as likely to pass the buck to their wives and girlfriends as vice versa. Between 32 and 33% of either sex chose this option.
When dealing with rodents, the majority of Britons like to call for a pest control expert or use 'humane' traps. 7% claimed that they would kill a mouse or rat "with their bare hands", although details were not forthcoming.
When asked if they considered their phobias to be rational or irrational, the majority described their fear of wasps and hornets as rational, while 74% admitted that their arachnophobia was perhaps not a logical response, despite greater numbers suffering from this phobia than any other. Respondents were divided over whether rats constituted a real threat or not, with 48% describing that fear as a sensible reaction.
"British homeowners are rightly becoming more concerned about wasp and hornet nests on their property than harmless house spiders", said Cath Rees, Contractor Network Director of HomeServe. "Dealing with stinging insects can be very dangerous, especially if you have to destroy a nest. Hornets are generally not as aggressive as wasps, but they will definitely sting if they are looking to protect the nest. At HomeServe, we employ trained pest control experts who can help you to eradicate wasps and hornets, as well as a whole range of household pests including rats and mice, quickly and safely."
Notes to editor:
For further information about HomeServe or their services, imagery or to speak to a HomeServe spokesperson please contact:
Ellie Marsh Joseph Bradfield
0207 861 3927 0207 861 3931
emarsh(at)resonate(dot)uk(dot)com jbradfield(at)resonate(dot)uk(dot)com
Image credit: Image Source/Image Source/Getty Images
About HomeServe
Every 30 seconds a HomeServe engineer comes to the rescue of a British household.
With over 2,800 directly employed and sub-contracted engineers, HomeServe is a national emergency home repair service backed by a 24 hour claims handling and repair network.
HomeServe's new tradesmen service provides households with access vetted tradesmen who are qualified to carry out hundreds of different jobs around the home. 0800 247 999 HomeServe tradesmen are guaranteed to turn up on time, to hold the necessary qualifications to do the job at hand, to provide a price before they start the job and will even guarantee their work for a12 month period afterwards.
HomeServe also offers insurance cover for plumbing, drains, electrical wiring and lost keys.
It has over 7 million policy members in the UK and a further 3 million in the USA and France.
###