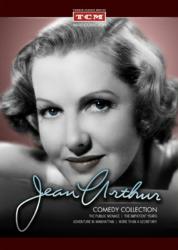 Philadelphia, PA (PRWEB) October 20, 2011
Represented by four films she made under contract to Columbia Pictures, the Jean Arthur Comedy Collection features the charismatic blonde haired thespian in a quartet of comedies that make perfect DVD shelf mates to such "Arthurian legends" as Mr Deeds Goes to Town (1936),  Easy Living (1937), You Can't Take It With You (1938), Only Angels Have Wings (1939), Mr. Smith Goes to Washington (1939), The More The Merrier (1943), and Talk of the Town (1942).
The Jean Arthur Comedy Collection, which sells for $39.99, features the following films:
The Public Menace (1935) stars Ms. Arthur as a manicurist on an ocean liner who needs an American hubby to get back into the country. She dupes cocky reporter George Murphy to marry her in lieu of giving him a kidnapper's confessions which she claims to own. When a real gangster, known as "Public Rat Number One," arrives on the scene, hilarity ensues.
Adventure In Manhattan (1936) with Joel McCrea as a newsman with a nose to find criminals and Jean plays an actress enlisted to trick him. Turns out her producer (Reginald Owen) has something devious up his sleeve in this farcical mystery. 
More Than A Secretary (1936) boasts Jean Arthur and Ruth Donnelly as owner sof the supreme Secretarial School. When they get a complaint from client George Brent, the publisher of Body and Brain Magazine, Jean goes to check it out, is mistaken for the new office help and finds herself attracted to her new boss.
The Impatient Years (1944) offers a romantic dramedy showcasing  Ms. Arthur and Arthur Bowman (in a role that was to be played by Joel McCrea) star as a husband and wife seeking to disband their marriage after a year-and-a-half. Jean's father (played by Charles Coburn) objects to the idea and it is suggested they retrace their early steps of their courtship in San Francisco in order to reignite their failing relationship.
In addition to the The Jean Arthur Comedy Collection, another compendium of classic films featuring "Blonde Bombshell" Jean Harlow -- The Jean Harlow: 100th Anniversary Collection from Warner Archives, is being released in October 2011. It's a new 7-disc set containing some of Harlow's best-remembered movies. Both boxed sets are remastered editions.
Movies Unlimited is one of the oldest and most reliable video retailers in the world, specializing in DVD and Blu-ray titles. The Jean Arthur Comedy Collection can be ordered through their moviesunlimited.com website or by calling 1-800-4-MOVIES. The Philadelphia-based  company also publishes the annual encyclopedic Movies Unlimited DVD Catalog. The Jean Arthur Comedy Collection is being released in conjunction with Turner Classic Movies.
###