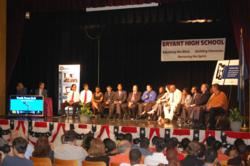 Our Youth Town Hall tour allows children's voices to be heard.
Detroit, Michigan (PRWEB) October 13, 2011
The non-profit BEM Foundation's National Youth Town Hall Tour rolls into Renaissance High School in Detroit as part of a 12 city tour across the country. The event features a panel of students, administrators, local businesses, community leaders, and corporate America. Students will lead the discussion on the significant challenges facing teens, how these challenges can be addressed and ultimately how our community can support and benefit from teens' strengths. Topics include bullying and peer pressure, paying for college, using technology responsibly, and health and wellness.
The Town Hall Event which will take place on Friday, October 14th from 10am-11:30am at Renaissance High School is a program of the BEM Foundation, a non-profit organization that provides "at-risk" youth from all ethnicities and socioeconomic backgrounds the academic tools, resources, and leadership skills they need to produce extraordinary results. The event is presented by General Motors; @15, a teen-led social change platform sponsored by Best Buy; and Marriott Hotels.
Students in the audience will ask questions and raise concerns that are important to them. "These Town Hall Events allow children's voices to be heard and their thoughts taken seriously by adults," says Welton Barnes, Executive Director of the BEM Foundation. "The Youth Town Hall experience also connects youth with local businesses and community leaders to help inspire change and leadership. It is our responsibility to make sure that we are providing teens with the opportunities and resources necessary for them to ultimately succeed and make positive contributions in the community."
The panel discussion will be moderated by a BEM Foundation member and will include students, teachers, administrators, and representatives from General Motors, Best Buy, and other local businesses and organizations. "We are so fortunate to have corporate sponsors who understand the importance of community development and engaging with students to reach their full potential. This Youth Town Hall is a great example of how collaboration and teamwork can achieve great results," said Barnes. The tour, which continues into 2012, spans from Pittsburgh to Atlanta, New York, Houston, Los Angeles, Seattle, Miami, and more.
Renaissance High School is located at 6566 West Outer Drive, Detroit, MI 48235
About The BEM Foundation
The BEM Foundation is a non-profit organization using education and technology to transform the lives of youth in the community and across the country. The BEM Foundation's programs include Youth Town Hall Events, The Power Texting Mentor Network, a life-coaching tool to pair mentors with at risk youth through their cell phones, and Career Shadowing, which allows students to be immersed in the day-to-day activities of a career they are interested in, and provide inspiration for college. The BEM Foundation has been seen on CNN, ABC, CBS, and more for the innovative programs. For more information visit http://www.BemFoundation.org, call 315.430.7584 or email pr(at)Imagelight360(dot)com
###