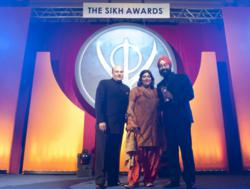 I am honored and humbled to receive the Sikh in Media Award and to be included with a prestigious group of so many fellow Sikhs making a positive difference across the globe.
London, England (PRWEB) October 12, 2011
Ravi Singh, CEO and founder of ElectionMall Technologies and an internationally recognized online politics expert, was awarded the prestigious Sikhs in the Media Award at the 2011 Sikh Awards in London, England on Sunday, October 9.
The Sikhs Awards are the world's only awards recognizing Sikh contributions across society for their contributions to business, sport, entertainment, charity, the media, service to others and education, as well as a People's Choice award and one for lifetime achievements. The ceremony was held at the London Hilton on Park Lane.
The awards were organized by the Sikh Directory, an organization that aims to build and strengthen a vibrant, international Sikh community. Guests attended from all over the world, including India, the United States, Dubai, Hong Kong and countries in Africa and Europe.
The Sikhs in the Media category, for which Mr. Singh was awarded, includes newspapers, magazines, websites, radio and television stations and all other media platforms.
Mr. Singh, who was named as one of "50 Outstanding Asian Americans" in 2010 by the Asian American Business Development Center, Inc. and a "Rising Star" by Campaigns and Elections Magazine, was nominated through the Sikh Award's website. He was then selected out of more than 100 nominations from all over the world by a panel of five respected citizens from the Sikh.
"I am honored and humbled to receive the Sikh in Media Award and to be included with a prestigious group of so many fellow Sikhs making a positive difference across the globe," Ravi Singh said, CEO and Founder of ElectionMall Technologies. "At ElectionMall we make it our business to advance e-politics and e-participation in political campaigns around the world. I couldn't have been even considered for this award for it not for the dedicated and thoughtful employees, friends and family who stand with me everywhere I go and in everything I do."
About Ravi Singh:
Ravi Singh is CEO and founder of ElectionMall™ Technologies, Inc., a non-partisan technology company that provides citizens, political candidates and parties with the necessary online tools, services, and products to help them win elections using state-of-the-art Internet technology. Singh, the first-born son of U.S. immigrant parents, began his political journey at age 14 when the US Armed Forces forbid him to wear his turban in a USA Military Academy. Senator Paul Simon and Congressman Dennis Hastert introduced legislation on his behalf signed by President Ronald Reagan in 1987, which allowed him to graduate with full honors as a 2nd Lieutenant, making him the first American with a turban to graduate. By the age of 25, Singh's passion for politics inspired him to run for public office. He was the first Asian American and Sikh with a turban to run for office in the 42nd District Illinois General Assembly. During his campaign, Singh made history by launching the first "online chat town hall meeting" and the first Internet candidate campaign website in the district. Following his run for political office, Singh founded ElectionMall™ Technologies, Inc. in 2000 and has since seen his company expand in Latin America, Asia and Europe. Currently, ElectionMall holds a product partnership with Microsoft®, which powers Campaign Cloud™, a unique campaign dashboard for campaigns of all sizes using the most advanced cloud computing technologies. He is a frequent speaker at universities and international organizations such as the UN or the European Parliament in Brussels, where he promotes e-democracy and trains on the importance and power of digital campaigns.
# # #