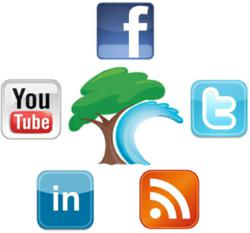 By attending the IMS, I learned a lot that will help ParknPool continue to grow their social media presence. It was great to hear individuals speak on what they have learned on how to use social media to promote business! - Meagan Deacon, ParknPool
Lexington, VA (PRWEB) October 12, 2011
With social media and online marketing becoming more of a necessity rather than just the fine print on the last page of a company business plan, attending the annual Inbound Marketing Summit in Boston was a natural step for ParknPool Corporation, located in Lexington, Virginia. ParknPool has put a considerable amount of focus towards social media in order to help promote their online supply of site amenities such as picnic tables, trash receptacles, park benches and bleachers.
The two day marketing event, which was held September 14th through September 15th, focused on how marketing executives no longer question the role of social marketing tools as a means to grow their business. ParknPool, an online based company, is using YouTube, Facebook, Twitter, and Blogging as effective and creative marketing tools. They have found that by using these social media outlets they are able to communicate on a personal level with their clients, enhancing their success by putting the client above everything else.
Since ParknPool's social media plan was put into effect in June of 2011, they have posted fourteen weekly blogs focusing on product spotlights, special events, and product education. In that same short amount of time they have increased their Facebook "likes" and Twitter "followers" by about 150 percent. When asked how they have used their social media existence to promote their online presence Laura Dudley, ParknPool's Marketing Manager stated, "It is not about promoting our products, it is about promoting us to the community – locally, nationally, and internationally."
Since online video is second only to word-of-mouth for its ability to influence, short two minute videos have been placed throughout ParknPool's website. These videos are meant to educate, entertain and stir the interest of those visiting the website. Whether looking for bleachers, benches, pet waste solutions or pool furniture, the appealing effects of video are sure to compel. Without the means of video it would be difficult for an online supplier to put a face to their company name. ParknPool has embraced this challenge and made it an advantage.
ParknPool invites those interested to connect with them through Twitter, YouTube, LinkedIn, Facebook and their Blog's RSS feed. By attending the Inbound Marketing Summit in Boston, ParknPool not only confirmed their successful use of social media but also learned that with the ever-changing means of connecting, it is important to not fall in love with a social network but to fall in love with the people and go where they go. ParknPool is sure to keep this in mind while continuing to expand their online presence.
About ParknPool Corporation:
ParknPool is Veteran Owned SBE/WBE Company and is the leading online supplier of commercial outdoor furniture and site amenities such as picnic tables, trash receptacles, park benches and bleachers. ParknPool was begun in 1998 in Orlando, FL and moved their headquarters to Lexington, VA in 1995. (http://www.parknpool.com)
# # #