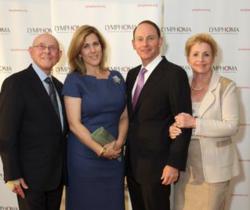 Freundlich Leadership Award recipients (from left to right) Robert I. Werner, Laura & Michael Werner, Florence Werner
New York, NY (PRWEB) October 12, 2011
The Lymphoma Research Foundation (LRF) – the nation's largest non-profit organization devoted exclusively to funding lymphoma research and to serving those touched by the disease – held its 2011 Annual Gala on October 5 at New York City's Chelsea Piers. More than 400 guests celebrated the unique and important contributions of the evening's honorees, which included the Werner Family for their notable philanthropic work, as well as corporate leaders Celgene Corporation and Genentech BioOncology.
Emmy-award winning broadcast journalist Harry Smith emceed the evening's program, while Sotheby's C. Hugh Hildesley served as the gala's auctioneer. Following a moving personal reflection from 30-year-old lymphoma survivor Trevor Biggs, C. Hugh Hildesley returned to the stage to commence the Foundation's signature Raise it for Research auction. During this unique and exciting auction, attendees pledged funds for lymphoma research ranging from $100,000 to $500. In less than five minutes, supporters of the Foundation pledged nearly $350,000 for lymphoma specific research.
"The Lymphoma Research Foundation's 2011 Gala was an enormous success, raising more than $1.1 million," said Diane Blum, LRF's Chief Executive Officer. "The Foundation is sincerely grateful to all of its supporters for their dedication to advancing the Foundation's mission of eradicating this disease, which is only possible through the funding of innovative lymphoma research."
Co-chaired by Miriam & David Phalen and Sheri & Jimmy Rosenfeld, the 2011 Gala was one of the most successful galas in recent years for the Foundation. Funds raised at the gala support LRF's mission and programs.
"The 2011 Gala was such an inspiring event, and it was an honor to have my family recognized as philanthropic leaders," said Michael Werner, LRF Board Member and this year's recipient (along with the entire Werner Family) of the Freundlich Leadership Award. "As a lymphoma survivor, it was particularly moving for me to witness so many people invest in research; the funds raised at the galas each year have had and continue to have a meaningful impact on those touched by lymphoma and I am confident that with our continued commitment to research, we can ultimately find a cure for this disease."
For more information about the Foundation's 2011 Gala, including photos from the event, and/or for information about lymphoma, please visit the LRF website: http://www.lymphoma.org.
About the Lymphoma Research Foundation
The Lymphoma Research Foundation (LRF) is the nation's largest non-profit lymphoma organization devoted exclusively to funding innovative research and providing people with lymphoma and healthcare professionals with critical information on the disease. To date, LRF has awarded more than $47 million in lymphoma-specific research.
For additional information on LRF's programs and services, visit http://www.lymphoma.org.
###