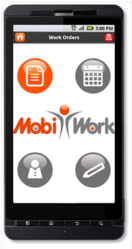 Boca Raton, FL (PRWEB) October 13, 2011
Florida based MobiWork today announced the general availability of MWS, a comprehensive mobile workforce solution designed for organizations looking to go paperless and increase the productivity, capability, visibility and quality of their field services business.
MWS integrates and exploits many advanced smartphone/tablet capabilities, so mobile workers can manage customer activity from anywhere and in real-time, including schedule, location, work orders, invoicing, entry forms, online payment, plus capture of signatures, audio and images.
With MWS, business critical information is placed in the hands of the entire team: office managers gain complete visibility into worker whereabouts and activities, office coordinators manage work orders in real time, mobile workers are alerted with schedule changes and perform on-site transactions, and customers can check status or create new work orders on a branded portal.
Hervé Rivère, founder and CEO of MobiWork stated: "We have spent 2 years developing a portfolio of patented software components that form the operating baseline for MobiWork MWS and future solutions. MWS is our flagship product, designed from the ground up to be comprehensive and seamless, providing significant technical innovation and value at an extremely cost effective price point."
MWS is ideally suited to mobile business models where mobile workers execute activities outside of the office, such as sales, business development and customer service. MWS includes an intuitive smartphone application that operates with any carrier, a web based portal for management and coordinators, plus an optional customer portal for self-service that enables reordering and status updates.
Compared to traditional mobile workforce management solutions, MWS empowers the entire workforce and customers, is not limited to simply tracking vehicles, and does not require proprietary hardware devices or a slow/cumbersome laptop, just an off-the-shelf smartphone or tablet.
MWS is supported in 4 languages (English, Spanish, French and Portuguese), and has several production installations running successfully in the USA, Brazil, Argentina, India, France and Australia.
About MobiWork
MobiWork is a privately owned software technology company based in Florida, focused on mobile workforce solutions. It was founded in 2009 by a team of highly experienced software engineers. Its mission is to empower businesses that employ mobile workers with leading edge, comprehensive and seamless smartphone/tablet based solutions. MobiWork solutions deliver increased productivity, insight, service quality and competitive advantage.
For more information visit http://www.mobiwork.com or contact 1-888-MOBI-WRK or info(at)mobiwork(dot)com.
For more information about MWS visit http://www.mobiwork.com/public/mws/overview.html
To take a test drive for MWS visit http://www.mobiwork.com/public/signup.html
###