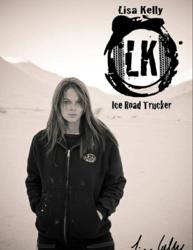 I know fans of Ice Road Truckers will be lining up for the incredible chance to meet Lisa Kelly here at Lake of the Torches.
Lac du Flambeau, WI (PRWEB) October 13, 2011
Climb up into the driver's seat and win your part of a "heavy haul" of cash with famed Ice Road Trucker Lisa Kelly as she rolls into Lake of the Torches Resort Casino on Saturday, Oct. 22. Fans can get a free autographed picture of Lisa Kelly from 1 p.m. – 5 pm. at the casino main entrance while supplies last.
Lisa Kelly has been one of the featured "toughest of the tough" truck drivers on the History reality television series "Ice Road Truckers" and "IRT: Deadliest Roads." On "Ice Road Truckers," Lisa is one of several truck drivers featured as they drive 18-wheel semi trucks on the Dalton Highway that runs from Fairbanks up to the oil fields of Prudhoe Bay and Alaska's North Slope. During each episode, Kelly is shown battling Arctic weather conditions and mechanical breakdowns, along with overcoming the prejudices of her male colleagues who are skeptical of a woman being cut out to be a truck driver in remote Alaskan wilderness.
On the spin-off series "IRT: Deadliest Roads," Kelly joined two other North American drivers navigating the treacherous roads of northern India that lead into the mighty Himalaya mountain range. During the episodes, Lisa dodged maniac car drivers and trucks on the mountain roads along with the stormy conditions of the infamous Rohtang Pass to deliver supplies to remote mountain villages. She also appeared in the second season of "IRT: Deadliest Roads II" in which drivers face the challenging roads in the rugged mountains of South America.
In addition to meeting Lisa Kelly, qualified Club Advantage members can participate in the casino's Ice Cold Cash promotion. These members can check into the promotion at one of the P.E.R.K.S. kiosks in the can starting at 11 a.m. Ten winners of $500 each will be drawn from noon – 5 p.m. Plus, all Club Advantage members will receive quadruple points for their slot play from noon – 5 p.m.
"I know fans of Ice Road Truckers will be lining up for the incredible chance to meet Lisa Kelly here at Lake of the Torches. Fans watch every week as she overcomes the challenges of Arctic weather and the doubts of her male colleagues to become one of the top drivers on Alaska's, and the world's most challenging roads," said Lake of the Torches' Director of Marketing Michael J. Broderick.
For more information, see Club Advantage at the casino or call 1-800-25-TORCH.
Situated on the shores of Pokegama Lake and nestled in Wisconsin's Northwoods, the Lake of the Torches Resort Casino has a feel of a classic Northern retreat and reflects its Ojibwe culture and heritage. The casino has over 800 slot machines (including a high-limit and non-smoking area), 12 blackjack tables, Let it Ride, Three Card Poker, and three poker tables, a high-stakes Bingo Hall seating up to 500 persons, Woody's Bar and Grill, and the Eagle's Nest Restaurant. The hotel has 101 well–appointed rooms, the Dancing Waters Lounge and the Woodland Oasis pool area. The 8,500 square-foot Convention Center with the Hall of Nations offers an outstanding venue for entertainment, receptions, trade shows, meetings, presentations and seminars. It is proudly owned and operated by the Lac du Flambeau Band of Lake Superior Chippewa Indians.
More information on upcoming events at Lake of the Torches is available at
http://www.lakeofthetorches.com.
###