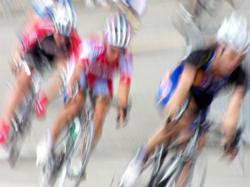 We gave our sponsored bike team members these......the Garmin Edge 500 was the hands down favorite.
Bozeman, MT (PRWEB) October 20, 2011
National fitness electronics firm the Heart Rate Watch Company has named the Garmin Edge 500 as its number one bike computer pick for 2011.
"When you look at the number of professional and amateur competitive riders that use the Edge 500 it is abundantly clear that it performs", say Rusty Squire, President of the Heart Rate Watch Company. He continues, "If it was just members of the Garmin Pro Team it would be one thing but there are pros on many other teams using the unit."
Indeed the Garmin Edge 500 has received many accolades and impressive reviews over the two short years since its introduction. Garmin recently added a new Edge 500 red bike computer with a glossy black case with red accents to the lineup. Also due out during the Spring of 2012 will be the Garmin Vector based power pedals that can easily switch from bike to bike and do both left and right power balance.
Collecting heart rate based data, power based data and using these numbers appropriately can help give cyclists an enormous advantage in their training. Building a base in the early season maintaining the proper intensity through heart rate based zones is important to get the right kind of base. All of these aspects and many more are available thanks to measurement technology systems like Garmin has created.
The software interface platform called Garmin Connect also gets big kudos, not so much for its analysis but for its ability to precisely map all metrics with pinpoint precision in a player function. The single button conversion of all map data to Google Earth is convenient as well and the ride sharing program is without peers.
The rubber O-ring mounting system is more secure and makes it much easier to both attach and detach the bike computer without leaving scratches on the surface of a carbon stem, as was the case with the zip tie solution used by most manufacturers. The attention to these small details is truly what helps set the Edge 500 apart, things like auto scroll so you can see more data completely hands-free.
Other features like percentage gradient, altitude, total feet ascended and descended and the ability to see heart rate as a percentage of maximum are all features that make the Garmin Edge 500 so adaptable to each individuals needs.
"We gave our sponsored bike team members these and several other Garmin units at the start of the season and asked them to compare them with all other bike computers they had ever used" says Squire. He added "The Garmin Edge 500 was the hands down favorite for size and capabilities".
Timex has a new bike computer due to come out in February of 2012 called the Road Trainer RT3 that is expected to create some new competition for the Garmin Edge 500. So for 2012 it might be possible that someone else could grab the prize but for 2011 the Garmin Edge 500 is the top bike computer pick - hands down.
###