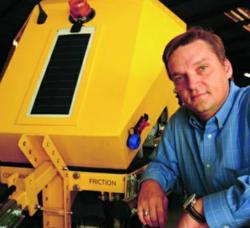 ... this contract will greatly improve jet operations for flight crews and the international traveling public," said Tim Neubert, President of NAC Dynamics
Clearwater, FL (PRWEB) October 13, 2011
NAC Dynamics, LLC (NAC), a manufacturer of runway friction measurement equipment has been awarded a $2.05 million dollar contract by the Turkish General Directorate of State Airports Authority(DHMI). DHMI is a state‐run authority that is responsible for the management and regulation of airports, aerodromes and airspace of Turkey. DHMI provides terminal and passenger service to over 35‐million domestic and international passengers across 42 airports and aerodromes in Turkey.
Under the contract's details, NAC will manufacture 32 of its patented NAC-Dynamic Friction Testers (DFT) at the company's new production facility at the Hernando County Airport in Florida, USA. NAC is working in partnership with the YAZICI Co. Ltd., which facilitated the award and served as NAC's negotiating agent with the DHMI in Turkey. As part of the contract, NAC will also establish a service center in the city of Istanbul to provide mechanical and training support to DHMI airport operators.
The NAC-DFT is a scientific measurement device used by airports to evaluate runway surface conditions to aid in preventing aircraft over-runs like those that occurred at airports in Honduras and Jamaica. NAC-DFTs will be the primary friction measurement device used by the DHMI airports to ensure safe jet aircraft landing and take-off operations.
"DHMI's purchase of our runway friction testing devices demonstrates that the Turkish government shares the US Federal Aviation Administration's recognition of the importance in using standardized friction measurement devices and certified operators to ensure runway safety. DHMI's awarding of this contract will greatly improve jet operations for flight crews and
the international traveling public," said Tim Neubert, President of NAC Dynamics, LLC.
About NAC Dynamics, LLC
NAC Dynamics, LLC is an ISO 9001:2008 certified quality manufacture of runway friction measurement equipment used at airfields and highways around the world and sold exclusively by Neubert Aero Corp. located in Brooksville, Florida, USA.
About Neubert Aero Corp.
Neubert Aero Corp. is located in Clearwater, Florida, and is a global provider of quality airport safety products, GIS airfield data collection technology, friction pavement systems and services supporting airport operations. Its products can be found on virtually every type of airport, in nearly every region of the world.
About YAZICI COMPANY
YAZICI Co.Ltd. is a leading company in the field of "Representation and Consultancy" in Turkey for more than 30 years. The company follows all government's investment programs together with B.O.T (Built-Operate-Transfer) projects. YAZICI Co.Ltd. is also fully capable of providing all necessary technical services for the systems and products sold. These products are mostly related with Civil Aviation Sector which include Continuous Friction Measurement Equipment, V/UHF Ground to Air Radios, Voice Communication Systems, Passenger Boarding Bridges. HF/VHF/UHF signal intelligence equipment are also included in YAZICI's business area.
Media Contact: Ms. Laurie Vanasse
P: 727-538-8744, E: lvanasse(at)airportnac(dot)com
###