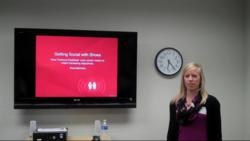 The TXCHANGE events give us an opportunity to present the St. Louis business and marketing communities with insights from a wide array of web marketing experts
Chesterfield, MO (PRWEB) October 13, 2011
The Net Impact, a St. Louis based web marketing firm, recently hosted a free social media strategy event with Laura Stude of Famous Footwear, a division of Brown Shoe Company. This event was the latest of The Net Impact's TXCHANGE happy hour series, designed to inform and educate the St. Louis business community about social media, SEO, new technologies, and other web marketing topics.
Laura Stude's presentation, Social Marketing with Famous Footwear, covered social media strategies and tactics that enterprise-level brands employ. Using a variety of data and metrics, Stude demonstrated the importance of interconnected marketing channels, personalized social media voices, and targeted Facebook advertisements. The presentation was followed by a Q&A session and an in-depth discussion among the attendees.
The Net Impact's TXCHANGE events, short for "technology exchange", have occurred monthly since the beginning of May 2011 and are typically held at The Net Impact's Chesterfield offices. Past topics include Video SEO with Adam Crosley of Reel Impact, Website Branding with Tom Schmittdiel of PSG Marketing, and Global Business Strategies with Susanne Evens of AAA Translation.
The Net Impact looks forward to continuing the TXCHANGE event series with new topics and new experts in future months. The October event will feature Natalie Vasilyev, an SEO and Local Search expert with The Net Impact.
If you're in the St. Louis area and would like to attend the next TXCHANGE event, register online.
"The TXCHANGE events give us an opportunity to present the St. Louis business and marketing communities with insights from a wide array of web marketing experts," said Steve Thomas, The Net Impact President. "It's very exciting for us to see these events generate such high quality information and discussion".
About The Net Impact®
The Net Impact, a full service web marketing and web design firm is a division of Unidev®. Since 1997, The Net Impact has been a web development leader, empowering clients with highly creative search engine friendly websites. Professional services encompass search engine optimization and Internet marketing solutions, Internet strategy development, training and seminars, social media marketing and design, and web design and development. For more information on The Net Impact, please visit http://www.thenetimpact.com, or call (636) 458-7772.
# # #