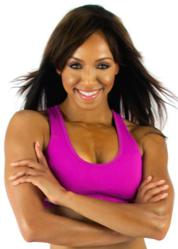 I am so excited and honored to join The Doctors for a third series.
Los Angeles, CA (PRWEB) October 13, 2011
On Friday, October 14th, International Sporty Girl and Fitness Expert, Basheerah Ahmad (http://www.BasheerahAhmad.com), will make her third appearance on the popular television series, The Doctors. She will offer expertise and insight into the health issues plaguing family and individual lives, for a better life.
"I am so excited and honored to join The Doctors for a third series. They are truly a great group of individuals and it's been a joy working with such professionals," says Basheerah Ahmad. "I've had a blast every step of the way and I am looking forward to this Season."
Basheerah brings to the series over 16 years of fitness experience with numerous accounts of personal acclaims by clients who can testify to the heart and spirit administered by this profound, seasoned and distinguished Fitness Expert. Currently working on numerous projects including a Sporty Girl Fitness 90-day Transformation Challenge and Reality TV Show Pilot, Basheerah plans to establish a global organization whose mission is to provide adequate nutrition and healthcare to women and children all across the world.
Basheerah adds, "It is my dream to expand far beyond the borders of the United States to help women and children in third-world countries with issues related to not only physical fitness, but also hunger, and violence against women, especially in those societies that don't recognize women as equals."
Ms. Ahmad has graced the covers of various magazines and is an internationally published fitness writer with articles appearing in Ultra Fit Magazine, Physique Magazine, Inside Fitness Magazine, Extra Fit Magazine, and Max Sports and Fitness. Adding to her long lists of achievements, Basheerah, has released her new book entitled "Love yourself enough to be healthy: 50 Affirmations to your best life," available now on http://www.amazon.com. The affirmations in this book are designed to be a constant reminder to others of their inherent potential to be great. The book is intended to be read daily so the inspirational affirmations can truly resonate in the minds of the readers.
To learn more about International SportyGirl and Fitness Expert, Basheerah Ahmad, or for Health and Wellness tips, visit: BasheerahAhmad.com.
The Doctors is a one-hour, daytime talk show that delivers up-to-the-minute information from a panel of four practicing medical professionals in a compelling and entertaining format five days a week. For local listings, visit: http://thedoctorstv.com/main/local_listings.
Viewers can also tune-in to receive professional insight and expertise from Basheerah Ahmad on the TV show 'America Now,' with Leeza Gibbons and Bill Rancic — where she offers insight on the affects of alcohol and the body; surprising everyday foods that we should avoid; new fitness trends; stress-relieving breathing exercises and more.
###