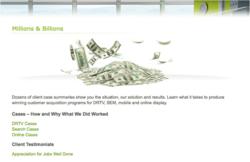 There's nothing more important that bottom line results, and that's what you'll find in the Millions & Billions case summary section.
(PRWEB) October 14, 2011
Acquirgy's new "Milions & Billions" case summary section (http://R1H.acquirgy.net) reveals top-level details based on the success of 26 programs for a wide range of clients, which have resulted in millions of customers that generated billions in revenue for the company's clients:

There are 13 case summaries for Direct Response TV, including the classic "6-Armed Small Businessman" and the legendary Shark Sweeper.
7 search cases show the company achieved materially positive results, including huge increases in ROAS and ROI, and significant decreases in click costs.
6 online cases covering lead generation, mobile and display showcase new and emerging successes as well as tried-and-true tactics.
Each case features Background, Situation, Key Takeaway, Solution, Results and "What We Learned And How It Benefits Other Clients." The last section is very important because acquirgy has found that learning from one client often benefits others in completely unrelated categories. For the DRTV cases, you can view the short-form spots and infomericals in the "Winner's Circle" area, also in the IntelCenter, at: http://R1G.acquirgy.net.
###