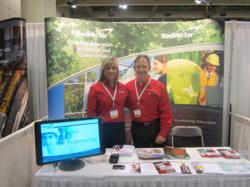 "We really want to showcase what RedVector is all about—exceptional quality online CE that's easy, affordable, and continually improving to meet the needs of our industry." Kelly Conlon, Marketing Communications Manager for RedVector
Tampa, FL (PRWEB) October 13, 2011
RedVector.com, the leader in online continuing education and training for the architecture, engineering, and construction industries, will showcase its robust library of web-based CE and PDH courses October 19–21 at the 2011 Design-Build Conference & Expo in Orlando, Florida. The widely popular event brings together AEC industry leaders from across the country to explore the myriad benefits of design-build project delivery.
RedVector will be located at Booth 602 inside the Marriott World Center, where visitors can preview what the eLearning company has to offer—including the industry's largest online CE & PDH library featuring more than 1,100 interactive and highly engaging courses. RedVector's innovative AEC Learning Management System incorporates the latest eLearning technology with convenient 24/7 access, full reporting, and live client support available seven days a week.
"We look forward to Design-Build every year," says Marketing Communications Manager Kelly Conlon. "And this year, we really want to make an impact and showcase what RedVector is all about—exceptional quality online CE that's easy, affordable, and continually improving to meet the needs of our industry."
Industry professionals who visit RedVector at Booth 602 will receive a free 2-hour online BIM course: Going Green with BIM and GIS, which examines the importance of using Building Information Models (BIM) and Geographic Information Systems (GIS) to ensure consistency in coordinating changes for the design team and allow advanced visualization prior to project siting, design, or construction.
About RedVector
RedVector sets the standard for excellence in online continuing education for licensed and certified professionals in AEC industry and holds more than 60 state and national accreditations. With an online library exceeding 1,100 courses authored by more than 100 subject matter experts and spanning all 50 states, RedVector serves more than 130,000 architecture, engineering and construction professionals. The recipient of numerous community honors and industry awards, RedVector was founded in 1999 and is headquartered in Tampa, Florida. For further information call 1-866-546-1212 or visit http://www.redvector.com.
###