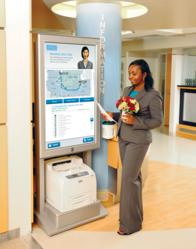 Beachwood, OH (PRWEB) October 12, 2011
LogicJunction, Inc., an interactive software development company, has announced the successful deployment of its hospital wayfinding system at the main campus of the Sarasota Memorial Health Care System. The interactive system went "live" on August 16, 2011. The system's touch screen display and friendly avatar provides individualized instructions to hospital visitors, patients and staff to help them navigate a complex and growing healthcare campus.
"Making your way around a large hospital is never easy, but it has become a greater challenge during our current campus improvement project," said Leigh Wilcox, Community Relations Coordinator at Sarasota Memorial. "We are in the midst of a $250 million construction project that is changing the face of the hospital. While our staff is always on hand to help visitors from getting lost, our new direction-giving avatar offers an added level of service that adapts instantly to sometimes daily changes."
The LogicJunction Hospital Wayfinding System provides detailed step-by-step directions via interactive touch screen wayfinder stations at key locations in the hospital. Maps and individualized walking instructions are generated for each location. The computerized avatar encourages use with its gentle, reassuring presence. Because the wayfinders employ a "dynamic" mapping technology, they are easily re-located if necessary. More importantly for evolving healthcare campuses and those under construction, the wayfinders' dynamic mapping easily accommodates changes to a structure or pathway, keeping them continually accurate as construction progresses.
"We were impressed by the wayfinders' ability to adapt to our changing campus," said Wilcox. "Initial reaction from staff, physicians and volunteers has been very positive. Our volunteers, which include many seniors, have embraced the technology to help them guide our visitors. We've even given the wayfinders' avatar a name: we call her 'Sara,' which seemed to be a natural."
Founded in 2000, LogicJunction, Inc. is an interactive software company that creates digital characters to help organizations connect with and educate their users. Headquartered near Cleveland, OH, LogicJunction's patented products and solutions combine these helpful, life-like avatars with artificial intelligence to serve clients in many fields including healthcare, education and insurance.
For more information, call (877) 286-2631 or visit LogicJunction. The company is located at 23950 Commerce Park Road, Beachwood, OH 44122.
About Sarasota Memorial Health Care System:
Sarasota Memorial Health Care System is a regional referral center offering Southwest Florida's greatest breadth and depth of inpatient, outpatient and extended care services, with more than 700,000 patient visits a year. Sarasota Memorial's 806-bed acute care hospital has been recognized repeatedly as one of the nation's largest, safest and best, with superior patient outcomes and a complete continuum of outpatient services– from urgent care walk-in clinics and physician groups, laboratory and diagnostic imaging centers, to home health and skilled nursing & rehabilitation. For information, visit Sarasota Memorial Hospital's website.
Sarasota Memorial Media Relations: Kim Savage (941) 917-6271
# # #