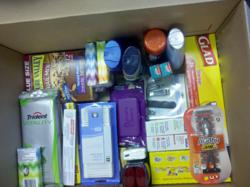 My brother is back after a 1 year tour in Kabul, Afghanistan and I know from his experiences how much the packages mean to the troops. Keep up the good work!
Lexington, VA (PRWEB) October 12, 2011
ParknPool, an online retailer of commercial furniture and site amenities such as picnic tables, bleachers, trash receptacles and playgrounds, understands the importance of giving back. As a veteran owned small business, ParknPool Corporation appreciates and honors the sacrifice and dedication of the men and women of the Armed Forces. To show their appreciation the company sends monthly care packages to deployed military personnel.
When ParknPool implemented the "Soldier Care Package" campaign in 2009 it was an instant success. Meagan Deacon, ParknPool Media Relations Coordinator excitedly explains, "The program has been a huge success. We typically send a package once a month, but this month we have already sent three!" ParknPool employees each donate items, such as snacks, drink mixes, personal hygiene items, and reading materials, to fill the care packages, as well as hand written letters thanking the soldiers for their sacrifice.
Chris Lopez, ParknPool Account Manager, has been deployed twice and is currently serving with the National Guard. Chris states, "Care packages are a great way for ordinary Americans to let our deployed service men and women know that we greatly appreciate the sacrifices they and their families make for us every day. I am excited that ParknPool participates in this."
ParknPool sends packages to friends and family members of their clients, as well as service member names they receive through a sign-up button on their website. As one of their clients said, "Good for you all at ParknPool!!!! I got the information about the care packages for our military personnel and just thought it was great that you were doing this and wanted to thank you. My brother is back after a 1 year tour in Kabul, Afghanistan and I know from his experiences how much the packages mean to the troops. Keep up the good work!"
About ParknPool Corporation:
ParknPool is Veteran Owned SBE/WBE Company and is the leading online supplier of commercial grade furniture and site amenities such as picnic tables, trash receptacles, park benches, bleachers and restaurant furniture. ParknPool was begun in 1998 in Orlando, FL and moved their headquarters to Lexington, VA in 2005. (http://www.parknpool.com)
# # #