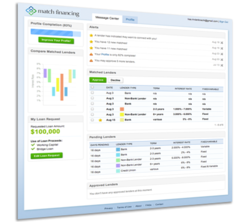 Match Financing is the best free way to find business loans. Using a double opt-in approach, businesses are matched with active lenders who are interested in funding loans today!
La Jolla, California (PRWEB) October 17, 2011
Match Financing announced today the beta availability of its innovative platform to match small and medium-sized businesses with lenders who are actively looking to make loans ranging from $10,000 to more than $10,000,000. The company provides businesses a free way to easily connect with capital sources for asset-backed and cash flow loans to support acquisitions, recapitalizations, equipment purchases, working capital, and other common business needs. Match Financing employs a strict double opt-in approach that eliminates unwanted phone calls and ensures that every lender contact results from both parties indicating a mutual interest in doing business. Businesses register for free, complete a simple business profile, and are then automatically matched with lenders who meet their funding needs. Business borrowers pay no fees and Match Financing uses state-of-the-art security measures to safeguard the confidential business information provided by registered users.
Headquartered in La Jolla, CA, Match Financing is funded and operated by a seasoned team of professionals who identified the need for a simple, efficient way to streamline the process of securing business credit for small and medium-sized companies. "We've spent years assisting companies with their efforts to raise capital and always wished there were an easier way to identify qualified lenders who were eager to do business. Now, using the Internet to aggregate lenders and create a standardized process that respects both sides' privacy and business processes, we are finally able to offer a solution," said Tim Ludwig, Co-Founder. "We're creating the next generation of business financing tools that serve businesses and lenders."
Borrower Benefits – Find loans for your business in one place, for free
Match Financing takes the proven concept of comparison shopping to the business loan market, helping growing companies source and secure business loans to build their companies. By completing a short online profile, businesses can access billions of dollars of capital from lenders across the country and reduce the burden of searching for funding sources who are actively lending. By giving borrowers control over the lenders they choose from the Match Financing network, borrowers eliminate the risk of being contacted by unwanted lenders, saving time and headaches from dealing with aggressive cold-callers. This personalized and streamlined process is a powerful new way of identifying lending sources and helps businesses to access the capital they need to grow.
Lender Benefits – Find new business banking customers and only pay for the leads you want
Match Financing represents a smarter and more efficient way for lenders to identify new business banking customers. The Match Financing platform is truly pay-for-performance – there are no subscription fees, and lenders only pay for leads that clearly meet their criteria. Designed to supplement existing methods of business development, Match Financing has an intuitive interface and smart tools and analytics to reduce the workload associated with identifying new prospects. After creating a profile to highlight relevant offerings and business information, lenders can create and save customized searches that target exactly the types of borrowers they want in their portfolio. Before a match is made, each side has the opportunity to confidentially view the relevant profile information of the other party to ensure that any leads sold represent high-potential opportunities. Online lead generation is the next step in the evolution of a lender's business development efforts and Match Financing is here to partner with leading-edge thinkers in the industry.
Match Financing Website and Social Media Presence

About Match Financing
Match Financing is the best free way to find business loans. Using a double opt-in approach, businesses are matched with active lenders who are interested in funding loans for acquisitions, working capital, equipment, and other common needs of growing companies. Match Financing is privately held and based in La Jolla, CA. For more information or to complete the free registration, please visit http://www.matchfinancing.com.
###