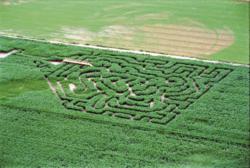 "My favorite place on the farm was the Maze. I was in there with my family with our map, and we only needed a little bit of help to get out. I want my Mom and Dad to take me there again."
Pony Express Territory, Fallon, Nev. (PRWEB) October 13, 2011
Half the people never find their way out of one of the largest corn mazes on the West Coast located in Fallon, Nevada at the Lattin Farms Fall Festival. But don't worry; the family friendly maze that offers one mile of tricky trails also provides maps and helpers for one to finish. The Lattin Farms Fall Festival occurs every Saturday in October, and the 2011 design for the Tractors & Truffles event in the life-sized Corn Maze had been kept a secret until now.
This year's Lattin Farm maze is designed to find the words Tractors & Truffles which is an annual authentic family farm agricultural and arts event attracting "foodies" from near and a far.
The 2nd annual Tractors & Truffles event will take place this Saturday, October 15, highlighting best-selling author and Chef John Ash, along with award-winning Chef Steve Hernandez of the Slanted Porch Restaurant, in Fallon, Nev. But, the gourmet, farm-to-plate event is not just about food and farm tours, as one of the best contemporary Folk artists performing today, Susan Werner, plans to deliver a lively performance.
Lattin Farms contracted with world-premier maze designer, Adrian Fisher, to create an incredible obstacle that focuses on family fun. Children and adults explore and find their way to the finish even though this maze is the largest in Nevada and one of the largest on the West Coast.
The Farm's newly designed life-sized Corn Maze is a main attraction and part of a month-long festival with a cornucopia of activities including hayrides, a pick your own pumpkin patch, cow train, make your own scarecrow factory, pick-your own produce and much more. This is the perfect destination for fall season family fun travel and preparation for Halloween.
Fisher is considered the world's leading maze designer, and in 2007 The Guardian newspaper named him one of Britain's top 50 designers. He designed the world's first corn maze and over 500 mazes across 30 countries.
"My favorite place at the festival was the Maze. I was in there with my family with our map, and we only needed a little bit of help to get out. I want my Mom and Dad to take me there again," said Drue, age 12 from South Lake Tahoe, Nev.
Only those who travel to the Lattin Farms Harvest Festival will experience first-hand this 3-acre corn field that has been turned into a giant life-sized maze. The Maze is open every weekend in October. Friday hours are 5 p.m. – 8 p.m. and Saturdays 10 a.m. – 8 p.m. Cost for the maze is $7 for adults and $5 for children under 14. Appointments may be made for groups visiting the maze during other days of the week. The Farm is located at 1955 McLean Rd. in Fallon.
Lattin Farms owner, Rick Lattin, says, "Our motto is to grow food and family fun, and that's exactly what we're doing here at Lattin farms."
Complementing all these family fun travel activities is Lattin Farms rich history. The farm is located in the Pony Express Territory of Northern Nevada. (link to PET site). Travelers continue to find intrigue along Highway 50, America's Loneliest Road, as it parallels the historic Pony Express Route that 150 years ago covered 2,000 miles of wilderness between Sacramento, California and St. Joseph, Missouri.
The Lattin Family moved onto the farm in 1977. At the Farm, visitors can learn about the family's history and take a self – guided tour. Fact boards about animals are posted around the lawn and antique farm equipment for viewing. The Lattin family has pioneered the production of red raspberries in Nevada, and the Old-Fashioned Roadside Produce Stand has been in operation since 1989. Surprisingly, the warm desert days and cool, high-altitude nights allow the full flavor of fruits like berries and melons to thrive. Such conditions have made the Fallon area regionally famous for the Hearts of Gold Cantaloupe, which has an unparalleled sweetness.
Additional information and lodging options are available.
The Pony Express Territory welcomes the media to its new online pressroom with exclusive high res photography and fresh story ideas. We're available to help you tour, customize your story, and more.
About the Pony Express Territory
Nevada's Pony Express Territory sits on 17 million acres of wide open space with 150 years of rich history, rugged undisturbed nature and black night skies. The Territory is where the Pony Express riders once galloped along its main trail, now Highway 50, connecting the six adventurous towns of Dayton, Fallon, Fernley, Austin, Eureka and Ely.
1,840 miles of wilderness was crossed in the Nevada "Pony Express Territory". Twenty years ago Life Magazine designated this section of Nevada State Highway 50 – "America's Loneliest Road." For more information, or call 1-888-359-9449.
Follow us on Facebook.
###