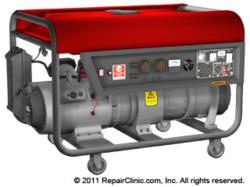 Canton, MI (PRWEB) October 18, 2011
Power outages caused by severe weather can leave homeowners in the cold and dark. A portable generator can provide essential electrical power during emergencies. RepairClinic.com®, online retailer of appliance and outdoor power equipment parts, advises homeowners to perform general maintenance on their portable generator every season to ensure that it works properly and at its peak performance when they need it most. RepairClinic currently carries maintenance and replacement parts for Briggs & Stratton, Honda, and Toro generators.
Follow these simple maintenance tips:
•Check the oil level every 8 hours of use and change the oil every 50 hours or once per season.
•Clean the air filter every 25 hours of use and replace it every 100 hours or every 3 months if the generator is used frequently.
•Clean or replace the spark arrestor (located inside the muffler) every 25 hours or once per season.
•Drain the fuel or use a fuel stabilizer when the generator is being stored.
Portable generators should always be used properly to reduce the risk of starting a fire, damaging electrical equipment, or causing personal injury. Follow these helpful tips to ensure safe generator use:
•Always operate the generator outdoors to prevent carbon monoxide poisoning.
•Keep the generator clean and dry. In wet weather, cover the generator with a canopy.
•Turn off the generator and let it cool before adding fuel.
•Use a heavy-duty, outdoor extension cord to plug in appliances.
•Do not overload the generator. Consult the owner's manual for specifications.
All outdoor power equipment parts are backed by RepairClinic's 365-day return policy. Customers can order online anytime or by phone from 8 a.m. until midnight EST, seven days a week. In-stock parts are guaranteed to ship out the same day when ordered by 8 p.m. EST Monday through Friday and only FedEx 2 Day and Overnight shipments ordered by 3 p.m. EST on Saturday. RepairClinic offers low, flat-rate shipping charges for all orders.
About RepairClinic.com
RepairClinic.com® is an online retailer of replacement parts for major household appliances, vacuum cleaners, lawn mowers, and outdoor power equipment. RepairClinic maintains an extensive inventory of more than one million parts for over 130 different brands and offers a generous return policy allowing any part to be returned within 365 days for money back. RepairClinic assists more than 75,000 customers each month with free repair help including videos, diagrams, and customized repair diagnoses. RepairClinic operates an 86,000 square-foot facility in Canton, Michigan, that employs over 100 employees. For more information, please visit http://www.RepairClinic.com.
###