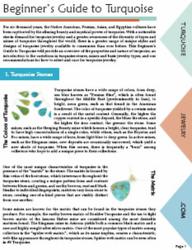 The purpose of our guide is to enhance people's appreciation of this striking gemstone through education, and to empower them with the knowledge to discern beautiful natural stones from imitation or cheap stones.
Santa Fe, NM (PRWEB) October 13, 2011
The leading web resource on turquoise jewelry, TurquoiseJewelry.com, has published a complimentary 8 page guide entitled "Beginner's Guide to Turquoise" that covers the subjects that every interested novice should know about this beautiful and ancient gemstone. Topics in the guide include, among others:

How to tell high-quality turquoise from chalk and imitation turquoise.
How to properly care for and clean your turquoise jewelry to protect your investment.
The varied colors and styles of turquoise that Mother Nature creates.
The famous turquoise mines and types like White Buffalo and Boulder Turquoise.
The fascinating history and properties of this striking and mystical gemstone that once adorned Cleopatra's neck.
Since the ancient Egyptians turquoise has adorned jewelry, valued by Native American, Middle Eastern, and Asian cultures for its striking beauty and purported mystical properties, and can be found in contemporary jewelry including necklaces, bracelets, rings, earrings and belts.
About
TurquoiseJewelry.com has been the Internet's trusted source for information about turquoise jewelry since 2008, and provides expert articles and guides on the subject to educate its readers. TurquoiseJewelry.com is based in Santa Fe, NM, in the historic heart of the American turquoise jewelry trade.
# # #