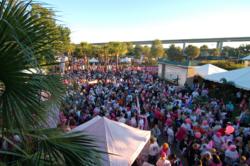 Multiple fundraising events occur here virtually every weekend of the month. It's hard to live or work here and not get caught up in the spirit of giving back.
Daniel Island, SC (PRWEB) October 14, 2011
With a month-long lineup of home tours and festivals, concerts and road races, October is the month that Daniel Island and Charleston area residents join together in Charleston's island town to show their support for many of the non-profit organizations that serve the region.
"Every year, through the growing array of charity-oriented initiatives that occur on Daniel Island, we estimate Daniel Island residents, businesses and organizations are involved in raising close to $2 million for area charitable organizations," says Matt Sloan, President of the Daniel Island Company, the island's master developer. "And October really is the highlight – multiple fundraising events occur here every weekend of the month. It's hard to live or work here and not get caught up in the spirit of giving back."
Sloan's company was among the first to bring fundraising initiatives to the island, which is conveniently located in the center of the Charleston region. In 2000, the company established Park Day on Daniel Island, a community festival that has evolved as one of Charleston's most diverse fundraising events.
"Park Day showcased the island's parks and outdoor amenities and offered a family-friendly festival for island and area residents to enjoy," says Sloan. "But it also provided an opportunity for a wide array of non-profit organizations to showcase their services and generate donations. It still takes place every October and is one of the community's most popular annual traditions."
Park Day led the way for the Lowcountry Affiliate of the Susan G. Komen for the Cure Foundation to relocate the Komen Lowcountry Race for the Cure from downtown Charleston to Daniel Island in 2002, a move that has now resulted in ten years of growth for the affiliate's primary fundraising effort of the year. Race participation has increased from barely 800 participants in 1994 for the inaugural Race in downtown Charleston, to more than 10,000 participants on Daniel Island in 2010. Island residents and businesses are preparing for even more participants at this year's event, which takes place Saturday, October 15.
Other October fundraising events on Daniel Island include the Harvest Tour of Homes, a benefit for the Daniel Island Library; the Buddy Walk, benefiting the Down Syndrome Association of the Lowcountry, Charleston Oktoberfest at Blackbaud Stadium, benefiting Debi's Kids and Meals on Wheels; and the Nationwide Tour Championship golf tournament at the Daniel Island Club, which raises money for scholarships offered by the Student Transportation of America Education Foundation, as well as funds for 30 area non-profit organizations through the tournament's "Tickets Fore Charity" program.
Part of the City of Charleston, Daniel Island is the city's "island town," with traditional neighborhoods, hundreds of acres of parks, leisure trails, downtown shops and restaurants, corporate offices, schools and churches, professional tennis and soccer stadiums, and a private country club with two nationally-ranked golf courses. Surrounded by 23 miles of rivers and creeks, Daniel Island is centrally located within 20 miles of the city's famous historic district, Atlantic beaches and other area attractions. The community was recognized with a prestigious "Award for Excellence" by the Urban Land Institute in 2007 for its exceptional planning and smart growth principles, and it continues to be a top choice for Charleston real estate.
###