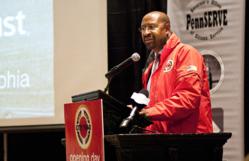 Philadelphia, PA (PRWEB) October 13, 2011
City Year, a national organization that unites young people for a year of service in high-need urban schools, held its Opening Day ceremony in Philadelphia October 7, kicking off its 15th year of service in Philadelphia public schools. A new scholarship partnership with Eastern University, a Philadelphia Christian university, was announced at the event.
Tom Ridington, Senior Vice President of Marketing, and Mumia Parham, Director of Enrollment and Partnerships, represented Eastern University at the ceremony. Through the partnership, called Give A Year, Eastern will offer substantial tuition scholarships to each admitted City Year alumnus.
Philadelphia Mayor Michael A. Nutter; Joe Banner, President of the Philadelphia Eagles and Co-Chair of City Year Greater Philadelphia's Advisory Board; Vice President of Comcast Charisse Lillie; Congressman Chaka Fattah; Councilwoman Jannie L. Blackwell; and Representatives Tony Payton and Kenyatta Johnson joined Loree D. Jones and Wyneshia Foxworth, Co-Executive Directors of City Year Greater Philadelphia, and the 230 corps members at Drexel University to kick off the service year.
In its 15 years in Philadelphia, City Year has tutored, mentored, and engaged nearly 200,000 Philadelphia youth, as well as led 50,000 community volunteers in service.
High school dropouts are three times more likely than college graduates to be unemployed and eight times more likely to be incarcerated than high school graduates. In Philadelphia, just 56% of students graduate high school on time. City Year corps members help keep students in school and on track to graduate. Learn more at cityyear.org.
About City Year
City Year is an education-focused, nonprofit organization founded in 1988 that partners with public schools to provide full-time targeted interventions for students most at risk of dropping out. In more than 20 communities across the United States and through two international affiliates, teams of young AmeriCorps leaders support students by focusing on attendance, behavior, and course performance through in-class tutoring, mentoring, and after-school programs.
About Eastern University
Eastern is a Christian university that transforms its students' lives. It prepares and inspires them to go out and make a difference in their communities and the world. All education at Eastern is rooted in its core values of faith, reason and justice. Students of all ages are encouraged to grow in their Christian faith, achieve their highest academic goals, and help bring justice to the poor, oppressed and marginalized.
###