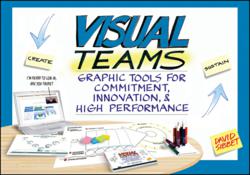 "…A visual team is a team that works like designers." – David Sibbet
Hoboken, New Jersey (PRWEB) October 13, 2011
In a follow-up to his first best-selling book - Visual Meetings: How Graphics, Sticky Notes & Idea Mapping Can Transform Group Productivity, author David Sibbet now offers advice to teams in his latest book, Visual Teams: Graphic Tools to Commitment, Innovation, and High Performance (Wiley; ISBN: 978-1-1180-7743-6; Paperback & E-Book; October 2011; $29.95). Visual Teams explains how to use graphics and visuals to foster team creation, development, and results.
Same rules apply for Visual Teams as they did for Visual Meetings – drawing expertise is not necessary!
Visual Teams is organized around the well-known Drexler/Sibbet Team Performance Model® and includes best practices, cases, and many visual examples of how to handle each stage of the Model, plus in-depth descriptions of how to use the full suite of Team Performance tools. He dips a bit into the underlying Theory of Process and explores the new technologies that allow teams to communicate in multimedia across time and space.
Visual Teams uses visual tools to explore how high performance teams work. The best teams work like creative designers--and a "design approach" is the key to innovation and productivity. Sibbet builds on Visual Teams by showing users how to knit together best practices described in the first book, and turn them into strategies that work across the whole arc of a team's work life.
It's what organizations need, what the planet needs, and anyone who wants to work both right and left parts of their brain and use their whole body to communicate. Sibbet points out three developments from the last 20 years that have significantly broadened the ways in which teams work together visually to achieve results -
1. The evolution of traditional design tools such as white boards, markers, large paper, tape, cameras, sticky notes, and other tools. They are both higher quality and increasingly interactive digitally.
2. The explosion of groupware and social media since the early 1990s. Groupware includes all of the software tools designed for group collaboration, including social networking tools. Most of these integrate text, graphics, and video, making it possible to work visually across a wide range of media.
3. An accelerating interest in "design thinking" and innovation. Competition from emerging economies increases every day and puts a premium on creativity.
We live in a time where graphics and text dance together continuously on our websites, smart phones, magazines, ads, and television. Was there ever a culture more visually stimulated and literate? There is no reason why teams cannot take advantage of all of this. Perhaps no one realizes how easy it is. Visual Teams makes it easier for all teams to understand.
Contact: Heather Condon, WILEY - hcondon(at)wiley(dot)com - 201-748-6017 for interview request or review copy.
###