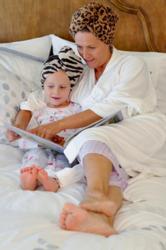 Animal Prints have been a popular pattern for years so it made sense to put them on the Turbie Twist®
Butler, PA (PRWEB) October 14, 2011
Turbie Twist, LLC has introduced a new twist on the Turbie Twist®. The new animal print Turbie Twists are now available at Bed Bath and Beyond, CVS and on QVC.
"Animal prints have been a popular pattern this year and so it made sense to put them on the Turbie Twist®", said Christina Cummings, President of Turbie Twist, LLC. "Now customers can dry their hair in stylish animal prints."
The animal prints come in five different styles: Neutral toned leopard, giraffe, and zebra prints (Bed Bath and Beyond and QVC), as well as fashion dyed blue and pink leopard prints (CVS).
To learn more about Turbie Twist and its new products, visit http://www.turbietwist.com and find us on Facebook, YouTube, and Twitter.
About Turbie Twist, LLC
Turbie Twist, LLC is the sole manufacturer and distributor of the Turbie Twist® hair towel. The Turbie Twist® is smaller and easier to use than an ordinary bath towel that simply falls off.
The Turbie Twist® is a revolutionary product that allows one to be the ultimate multi-tasker while drying their hair. It's unique twist and loop system makes it the hair towel that stays in place. Featuring a tapered design the Turbie Twist® allows for a perfect fit on all head sizes. It allows users to get dressed, apply make-up, and check email - all while drying their hair.
###