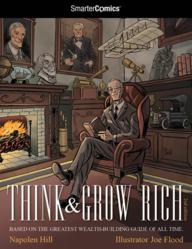 Our books are written in what linguists refer to as 'Microstyle'. Much like a text message or Twitter updates, Microstyle grabs someone's complete attention quickly to communicate a concept or idea
(PRWEB) October 12, 2011
One of the best selling business books in the past 70 years 'Think and Grow Rich' by Napoleon Hill is now available in a comic book style format.
'Think and Grow Rich' by SmarterComics showcases a new, innovative way for readers to learn the secrets to financial success that were first introduced by Napoleon Hill in 1937.
This 80-page comic-style book takes the principles from the original publication and condenses them into a smaller, easier to read and fully illustrated guide to financial success using a writing technique called 'Microstyling'.
"Microstyling is how young adults read today. We read differently than we did 20 years ago," explains Franco Arda, CEO of SmarterComics (http://www.smartercomics.com). "Our books are written in what linguists refer to as 'Microstyle'. Much like a text message or Twitter updates, Microstyle grabs someone's complete attention quickly to communicate a concept or idea."
By combining Microstyling with illustrations, SmarterComics created a comic book from Napoleon Hill's 'Think and Grow Rich' that appeals to a wider range of readers. The shortened version of this popular book takes less than an hour to read, while still maintaining the integrity of the original text.
Within the pages of 'Think and Grow Rich' by SmarterComics, readers will find the money making principles that made the original book such as success, such as:

Ways to accumulate wealth without sacrificing passion
How to get rich while achieving their dreams
Practical ways to achieve financial independence
'Think and Grow Rich' from SmarterComics is available for download on your Android phone for $4.99. Readers that download this app will also receive Sun Tzu's classic, 'The Art of War' from SmarterComics for free!
Fans can download this eBook and many more at: http://smartercomics.com/ThinkandGrowRich
About SmarterComics:
SmarterComics is a technology driven publishing company based in the Silicon Valley that turns bestselling books into comic books - comics that make you smarter!
The company's award winning illustrators bring talent from prestigious comic companies including Marvel and DC Comics, lending a rich graphical style to the SmarterComics library. Many of their scriptwriters and editors have won awards that are equivalent to the Oscars in the comic genre: the Eisenhower and the Harvey Awards.
# # #