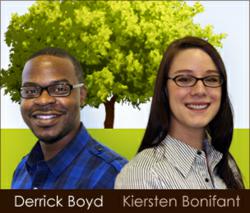 I'm excited to be able to continue to grow by adding two very strong and talented designers to Evolve, said Todd Bertsch, President of Evolve. Our client base continues to grow rapidly and adding new designers will be a huge asset going forward.
Akron, OH (PRWEB) October 17, 2011
Derrick Boyd and Kiersten Bonifant are the newest additions to Evolve Creative Group. Together, they bring a diverse mix of graphic and web design experience to the agency.
Boyd, like Evolve President, Todd Bertsch, is a proud alumnus of The University of Akron's Myers School of Art and will serve as a Mid-Level Designer for the firm. Derrick's resume boasts over three years of experience including work for professional sports teams and local startup companies.
Derrick has a love for clean design and possesses a sharp attention to detail. When he isn't working on your next big project, Derrick is probably spending time with family or killing zombies in Call of Duty with his friends.
Bonifant comes to Evolve from Ohio University with a degree in Interactive Multimedia and a specialization in Retail Merchandising. While Kiersten designs primarily for the web, she has a soft spot for print design. Evolve's fresh, innovative designs and diverse client mix brought her all the way from her small hometown of Strasburg, OH.
The self-proclaimed "Evolvinista" enjoys creativity in all forms, from making jewelry to sewing clothing. She also enjoys reading, shopping and tracking down the latest music trends to occupy her free time.
About Evolve Creative Group
Akron, OH web design firm Evolve Creative Group provides cost-effective, customized and award-winning web solutions to the Akron, Canton and Cleveland, Ohio areas. Led by founder Todd Bertsch, the company has won multiple awards for its creative ingenuity and compelling designs. With a team of passionate web designers and developers, Evolve offers a full-suite of creative services including web design and development, mobile web design, SEO, eCommerce, video production, email and social media marketing, custom programming, print and logo design.
###