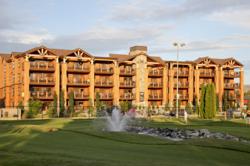 Chelan, WA (PRWEB) October 13, 2011
The Lake House at Chelan announces that the final day to receive special pricing on their one, two, and three bedroom vacation homes will be October 31, 2011 with no exceptions. After the special pricing expires buyers will no longer be able to enjoy up to 37% savings on these Lake Chelan homes.
Quarter interest residences previously priced up to $149,900 are now available at $59,900 at the Lake House at Chelan, with payments as low as $272.50 per month. This limited time pricing means buyers can save a substantial amount on their home purchase if they beat the October 31st deadline, and financing is available on-site for up to 80% of the purchase price. Click here for financing details.
The Lake House at Chelan offers vacation living for a mere fraction of the cost of a traditional second home purchase.
The luxury condominiums at the Lake House are fully furnished and conveniently located in downtown Chelan. There are three floor plans to choose from (596-1359 sqft.) featuring designer kitchens, hardwood floors, stainless steel appliances, a fireplace, and a washer and dryer in each home. Homeowners also enjoy personal concierge service, a year-round heated pool and hot tub, and a 4,000 square feet community Pool House with a fitness room, game room, pool table, heated patio deck, and flat screen TVs. Residents can also relax by the cozy firepit to enjoy s'mores or play with the kids at the Splash Zone play area.
The Lake House Chelan is open daily 9 am to 5 pm, located at 407 N. Lake Street, Chelan, WA. Toll free number on site is 877-293-5982 and toll free sales concierge service is 855-678-3371. Brian Merrill, Community Sales Manager, Windermere Lake Chelan, Broker. Visit the website, http://www.TheLakeHouseChelan.com for further details.
About The Lake House at Chelan
Located in the heart of downtown Chelan, the Lake House at Chelan offers fully furnished homes just steps away from public beaches, boat launch, walking trails, a champion golf course, award winning wineries, and more. Visit http://www.TheLakehouseChelan.com for more information.
About Paradigm Real Estate Solutions
Paradigm Real Estate Solutions, a full service national Real Estate Sales and Marketing Consultant for The Lake House at Chelan, is leveraging its proprietary technology platform Marketing Success Portal® to deliver the next generation of real estate solutions for homebuilders, developers and financial institutions. Paradigm Real Estate Solutions' provides market research, proprietary web based technology and internet-centric methods. For more information visit http://www.ParadigmIntel.com.
###