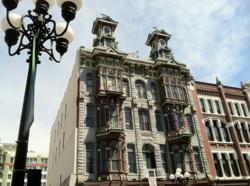 San Diego: The Game offers two meticulously researched tours designed to delight San Diego locals and tourists alike with intriguing facts and amusing activities
San Diego, CA (PRWEB) October 13, 2011
A new way to explore San Diego is coming to town today with the launch of Stray Boots' new San Diego: The Game series of tours. A refreshing alternative to traditional tours that rush you through the highlights with dull commentary, San Diego: The Game uses mobile technology to immerse players in enjoyable and informative self-guided, interactive tours. The tours combine the fun of a scavenger hunt with the sights, history and insider knowledge of a top-notch tour.
San Diego: The Game is easy to play and works by text message, so customers can play using virtually any US mobile phone. Players are guided with text messages that include riddles, puzzles, photo opportunities and trivia questions as they tour the points of interest along the route. Each response earns the urban explorer points, making it possible to compete between groups of friends, family members, or pre-assigned teams. And since San Diego: The Game is a completely self-guided experience, players can start whenever they want and set their own pace as they go. Each tour takes about two to three hours to complete. For a video demonstration visit: http://youtu.be/SK_2YZPwxCk.
San Diego: The Game offers two meticulously researched tours designed to delight San Diego locals and tourists alike with intriguing facts and amusing activities. For San Diegans looking for something different to do, it makes a great date, family outing, or just a day out on the town with friends. San Diego: The Game tours cover the major San Diego sights and attractions, but also include cool "insider" and off-the-beaten-path gems:

The Gaslamp Quarter tour takes players on a trek through the beating heart of San Diego known for boisterous entertainment and historic sights. The tour includes beautiful Victorian buildings, famous saloons, the William Heath Davis House, Joseph Jessup Clock and a host of historic hotels and marvelous monuments.
The Balboa Park tour offers stunning vistas and awe-inspiring architecture. Players take a scenic stroll that treats them to beautiful botanical gardens, Shakespeare's Globe, stunning sculptures, the Timken Museum of Art and even the world's largest organ.
Coming later this fall are additional tours including a rip-roaring trip through Old Town San Diego.
San Diego: The Game is being offered at a special introductory price of US$12 per ticket. Tickets can be purchased online at http://www.strayboots.com/san-diego
Stray Boots is also offering a special free ticket promotion to the first 100 people who sign up to take the tour within the first month. Free tickets can be acquired for a limited time by visiting http://sandiegothegamegiveaway.eventbrite.com/
Stray Boots also offers "San Diego: The Game" for corporate team-building events, school field trips and private events including birthday and bachelorette parties. For more information visit: http://www.strayboots.com/large-groups/
What they're are saying about StrayBoots
"The most original fun I've ever had as a tourist" – Customer Review, Birmingham, AL
"If you like "The Amazing Race" you'll love this!!!" – Customer Review – Fogelsville, PA
"Best Part of Our Trip - So fun, funny, and easy" – Customer Review, San Diego, CA
"This will take you places you didn't know existed," – Customer Review, Pittsburgh, PA
"Really fabulous way to entertain teens and their parents!" – Customer Review, Detroit, MI
"A great way for you to explore our nation's capital and all you need is a cell phone." – Fox5 DC
"Stray Boots' scavenger hunts/city tours are an answer for tourists who want to sighstee without upping the nerd factor." – The Washington Post
"Great for families, these hunts are not timed, and each correctly answered clue is rewarded with a city fact." – NY Newsday
"The Game turns city exploration into an actually exciting neighborhood scavenger hunt played via text message" - Thrillist
About Stray Boots
Called a "Game Changer" by Fastcompany.com, Stray Boots was created to deliver the cure for the boring tour. Stray Boots' interactive, cell phone-based tours challenge users as they see the city, learn interesting facts and have some fun along the way. Tourists and locals are giving Stray Boot's tours rave reviews in Boston, Chicago, Las Vegas, Los Angeles, New York, Philadelphia, Portland (Oregon), San Francisco, Seattle and Washington, DC. Many more cities are coming soon. Stray Boots is the proud recipient of a TripAdvisor™ Certificate of Excellence. Stray Boots also offers private tours for corporate team-building and special events like birthday and bachelorette parties. For more information, visit http://www.strayboots.com/.
###