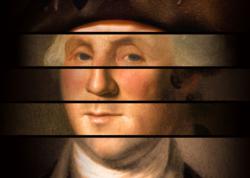 We are extremely honored to be chosen as the sole museum in Texas for this extraordinary historical exhibition
Fort Worth, Texas (PRWEB) October 13, 2011
George Washington's only surviving complete set of dentures will be among the approximately 100 original objects associated with him on display when Discover the Real George Washington: New Views from Mount Vernon makes its only Texas appearance on its national tour at the Fort Worth Museum of Science and History. Running from Saturday, Oct. 15, 2011, through Sunday, Jan. 22, 2012, the exhibition explores Washington's views on religion and slavery, and the influence of his wife, Martha, along with engaging videos, original artifacts, intricate three-dimensional architectural models and interactive displays. Three life-size figures, developed through a cutting-edge forensic investigation, depict Washington at significant stages of his life—age 19 as a young surveyor, age 45 as commander-in-chief, and age 57 when he was sworn in as the country's first president.
"We are extremely honored to be chosen as the sole museum in Texas for this extraordinary historical exhibition," said Van Romans, museum president. "Partnering with Historic Mount Vernon is another proud milestone in the history of our museum, and we are delighted to share this exhibition with our community and surrounding neighbors."
The exhibition is presented in 11 sections, ranging from Washington's youth to his final days. In addition to Washington's dentures, paintings, books, maps, and objects such as surveying equipment, Revolutionary War armaments, tools used by slaves, and presidential table settings are among the artifacts featured in the exhibition. Mrs. Washington is represented by original jewelry, pieces of her china, silver, and glassware, and reproductions of her gold wedding dress and purple satin slippers.
"Although over a million people come to walk in Washington's footsteps at Mount Vernon each year, we know that not everyone will have a chance to visit his home," said Jim Rees, executive director of Mount Vernon. "We wanted to bring the fascinating story of Washington's life to people around the country by showing a wide variety of compelling personal belongings and some intriguing elements from our new Donald W. Reynolds Museum and Education Center."
Three life-size models of George Washington were assembled from a two-year forensic study where computer scientists, art historians, 18th-century garment experts, and a forensic scientist used technology and research from primary sources to measure and analyze portraits, sculpture, and Washington's dentures and clothing. The project employed proprietary age-progression and regression techniques to create three depictions of Washington as a teenaged surveyor, commander-in-chief atop a white horse, and as the first president taking the oath of office. These lifelike wax figures, with real human hair that was implanted one strand at a time, are embedded in realistic settings – one even with animation – that re-create scenes in the woodsy Ohio Valley territory, wintry Valley Forge, and on the balcony of Federal Hall.
The fascinating process of creating the figures is shown in a video by The History Channel, which also produced five other videos in the exhibition on religion, espionage, slavery, Washington's dentures, and his state-of-the-art gristmill.
A full-size, functional replica of Washington's pew at Pohick Church and detailed models of Fort Necessity and Washington's mansion and estate, gristmill, and innovative 16-sided treading barn bring large structures to the exhibition in a scalable manner, while interactive touch screens encourage involvement.
The exhibition was organized by the Mount Vernon Ladies' Association and funded by the Donald W. Reynolds Foundation, a philanthropic organization founded in 1954 by the late media entrepreneur for whom it is named. The exhibition was designed by MFM Design, Inc. and fabricated by Explus, Inc. The forensic figures of George Washington were created by StudioEIS.
About the Fort Worth Museum of Science and History
The Fort Worth Museum of Science and History is an institution dedicated to lifelong learning, anchored by its rich collections. The museum engages children and adult visitors through creative, vibrant programs and exhibits interpreting science and the history of Texas and the Southwest. The new $80-million campus opened in November 2009 marking the culmination of an extensive multiyear fundraising campaign. The Fort Worth Museum of Science and History is open daily, except Thanksgiving, Christmas Eve, Christmas Day and select Mondays in September. For more information about the museum, visit http://www.fortworthmuseum.org or call 817-255-9300.
About Mount Vernon
Since 1860, over 80 million visitors have made George Washington's Mount Vernon Estate & Gardens the most popular historic home in America. Through thought-provoking tours, entertaining events and stimulating educational programs on the estate and in classrooms across the nation, Mount Vernon strives to preserve George Washington's place in history as "First in War, First in Peace, and First in the Hearts of His Countrymen." Mount Vernon is owned and operated by the Mount Vernon Ladies' Association, America's oldest national preservation organization, founded in 1853. A picturesque drive to the southern end of the scenic George Washington Memorial Parkway, Mount Vernon is located just 16 miles from the nation's capital. http://www.MountVernon.org
###