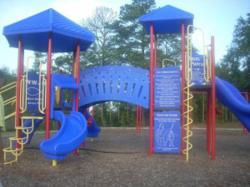 Playgrounds are a great addition to any community. It's exciting that ParknPool offers 17 different playgrounds; it makes them a truly one stop shop for outdoor furnishings! - Alice Vaughan-Williams
Lexington, VA (PRWEB) October 12, 2011
ParknPool, an online retailer, has added a brand new line of playground units to their already extensive selection of commercial furniture and site amenities. Each of their units has several activities designed to challenge and encourage the physical, social and mental development of children up to age twelve. Children will be inspired and energized with the ladders, climbers, activity panels and slides incorporated into their playground systems. Great outdoor playgrounds are designed in such a way that children's play can be fully expressed, and they most often include various engaging activities.
Play is almost always enjoyable, but it is about much more than just fun. Play is needed for a healthy and balanced life! Outdoor play is critical for young children, especially when considering the various ways our culture is taking outdoor play away from young children through excessive TV and computer use, unsafe neighborhoods, and the elimination of school recess. With outdoor playground units, children are able to make a mess, run, jump and hide; they can shout, whistle and explore the natural world.
Most of ParknPool's playground units meet American Disability Act (ADA) Accessible Guidelines for buildings and facilities. ADA Accessible playgrounds must incorporate ways to create play opportunities close to the ground, as well as give physically challenged children a wheelchair transfer station. A transfer station provides a platform onto which children using wheelchairs can transfer easily onto the playground system to enjoy the fun.
There are several factors to consider when choosing the perfect playground for any outdoor area. Along with adding playgrounds, ParknPool is well versed in the safety regulations to help children travel to and from the playground, to identify any potential hazards near your play area, what components will be affected by sun exposure and what visual barriers on the unit will interrupt the line of sight of those supervising the children at play. ParknPool has made sure that each of their units has what kids want, and what parents need. When it comes to children, safety and fun have to play nice with each other!
About ParknPool Corporation:
ParknPool is Veteran Owned SBE/WBE Company and is the leading online supplier of commercial outdoor furniture and site amenities such as picnic tables, trash receptacles, park benches and bleachers. ParknPool was begun in 1998 in Orlando, FL and moved their headquarters to Lexington, VA in 1995. (http://www.parknpool.com)
###