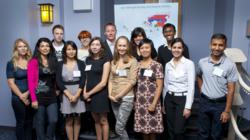 Montclair, NJ (PRWEB) October 13, 2011
Record Number of Fulbright Students Choose Montclair State
Montclair State University has 17 Fulbright scholarship graduate students from overseas countries studying on campus for the 2011/12 academic year, the University's largest contingent ever.
Established in 1946 by the US Congress, the prestigious international exchange program brings students to US universities or other appropriate institutions for master's degree or PhD study.
This year's total puts Montclair State in the top rank of universities in New Jersey, based on 2009 statistics (the most recent year available) from the International Institute of Education (IIE), which administers part of the Fulbright program on behalf of the US Department of State.
"Fulbright is a magical word. It's a big opportunity for us to brag a little bit," said Joan Ficke, dean of The Graduate School at Montclair State. "We've had a long institutional commitment to global education and we've worked very hard at cultivating international relationships beyond what state institutions like Montclair State usually do. All of that has come to fruition this year."
The University's Global Education Center took the initiative in laying the groundwork to make Montclair State a destination for this year's Fulbright grantees by working closely with IIE and taking a positive, proactive approach that, in some cases, included personally contacting prospective students and encouraging them to come here.
"When we spoke to some of the students, we found that they were choosing universities they recognized or were in places that they knew about," explained Marina Cunningham, the Center's executive director of International Affairs. "We realized that there was a lack of knowledge about us, so we made a special effort to nurture these students."
Several of the students spoke of their experience of being in the U.S. for the first time and their desire to advance their studies here. "This is a great opportunity to develop myself. There are many things I cannot learn from a dictionary," declared Ahmed Abu-Schnein, a 32-year-old translator from Najaf, Iraq who is studying for his master's degree in Applied Linguistics. "I can make friends with people from all over the world, learn about their culture and language and hear English on a daily basis."
He hopes to build long-term relationships with his professors, which he would like to maintain even after he goes back to Iraq. An avid piano player who enjoys New Age music, he also plans to further his interest in music here.
Aneta Wegrzyn, a 24-year-old artist from Pszczyna, Poland pursuing a master's degree in Studio Art, was excited by the interdisciplinary nature of her art program at Montclair State. "Before, I focused on painting," she said. "But with Studio Art, I can experiment. If a problem interests me, I can explore different media to address that problem." With New York's world-class museums and art galleries close by, Wegrzyn was looking forward to visiting as many as she could.
When she gets lost on campus, she said people are always quick to help her. "I like the atmosphere. People smile here. You can feel that people are happy," she said.
Second-year Fulbright student Wayan Wiriswastiningrum, 30, who taught English at a university in her home province of East Java, Indonesia and plans to return to her job when she finishes her studies, said she had dreamed of seeing the world since she was 14.
"I read a lot of books and saw how girls developed in different cultures, how they dressed and thought. I wanted to experience that," she said, adding that she considers herself "really lucky" to have been awarded a Fulbright grant.
"It's more dynamic here and there are more opportunities for professors and teachers. Back home, there's too much administrative work, too many students and not enough time to do research," she added.
Like many of the other Fulbrighters, Fanny Ellis Hammond, 37, of Ghana, who's pursuing her master's degree in psychology and hopes to continue on to a doctorate, said she was trying to adjust to the more animated give-and-take US teaching style.
Class discussions are less common in her home country where professors lecture and students tend to just take notes. "I like this system. I use that approach too, but not as strongly as it's used here. I believe if you want students to grow, you have to give them space," she said. "When I go back, I'll encourage them even more."
The Fulbright program is designed to increase mutual understanding between the people of the US and those of other countries. Grants are awarded based on academic merit and leadership potential.
Approximately 310,000 Fulbright Scholars—116,900 from the US and 192,800 from other countries—have participated in the program since its inception. Currently, the program operates in over 155 countries worldwide.
The current Fulbright group at Montclair State University represents 16 countries, spanning Asia, Africa, Europe, South America, and the Middle East. The students are: Ahmed Abu-Schnein, Iraq (MA Applied Linguistics); Terelj Batbold, Mongolia (MA Environmental Studies); Anton Ivan Botha, South Africa (MA Industrial and Organizational Psychology); Macyory Calderon, Venezuela (MA Applied Linguistics); Ganga Coulibaly, Mali (MA Applied Linguistics); Ashim Dutta, Bangladesh (MA English); and Maximillian Felderhoff, Germany (MBA).
Also, Fanny Ellis Hammond, Ghana (MA Psychology); Selin Kalenderli, Turkey (MA Psychology); Olga Konovalova, Russia (MA Public and Organizational Relations); Ronit Levin Delgado, Israel (MFA Studio Art); Marlene Leuzinger Navarrete, Switzerland (Non-degree Linguistics); Sirine Mabrouk Hattab, Tunisia (MA Applied Linguistics); Gul Rasool, Afghanistan (MA Linguistics); Ahmad Rashad Wassif, Afghanistan (MBA); Aneta Wegrzyn, Poland (MFA Studio Art); and Wayan Wiriswastiningrum, Indonesia (MA English).
Montclair State University
Montclair State offers the advantages of a large university -- a comprehensive undergraduate curriculum with a global focus, a broad variety of superior graduate programs through the doctoral level, and a diverse faculty and student body -- combined with a small college's attention to students. For more information, visit montclair.edu
###