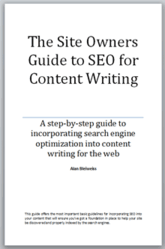 Lacey, WA (PRWEB) October 13, 2011
Alan Bleiweiss, a leading search industry expert, speaker, blogger and author, has just released his highly acclaimed "Site Owners Guide To SEO for Content Writing" on the Kindle platform. While this concise and helpful eBook has been available in PDF format since the spring, making it available on Kindle means site owners, marketing professionals, content writers, and bloggers who have an Amazon Kindle can now download the guide and put its actionable recommendations to use on their sites and blogs.
At 34 pages, this eBook cuts right to the chase in offering step by step how-to guidance on implementing best practices SEO at the content level. In this easy-read guide, readers will find 45 actionable tasks – the most important work in ensuring web and blog content is truly optimized. And throughout, Alan offers bonus tips and insights to help site owners and marketers maximize their time integrating SEO into their content writing.
According to the author: "Over the decade I've been providing SEO solutions, I've found that site owners and content writers want to participate in their site's success in any way they can, as long as that participation doesn't impede their productivity. So I created this guide to help empower them in their efforts. The more educated people are on proper best practices for content writing optimization, the more efficiently they can integrate the right actions into the writing process."
As a Kindle eBook, the Site Owners Guide to SEO for Content Writing is also sharable – so site owners can share it with their marketers and their content writers.
Rave Reviews – in the short time it's been available through Alan's site in PDF format, hundreds of search industry professionals, site owners and copywriters have already bought the PDF version and without exception, the feedback confirms how valuable a resource the guide is.
Ann Smarty, founder of the popular MyBlogGuest blogger exchange writes: "This is the most comprehensive guide on using keywords you will ever be able to find online. It tackles most discussed issues and provides a clear-cut solution to any question (you have ever asked yourself). It also lists some 'secret' tips you won't find being discussed anywhere else. What I especially liked is that while the guide contains some very definitive advice on each point it tackles, it also encourages you to get creative as "SEO in 2011 is an art form as much as it is a science."
About Alan Bleiweiss
25 years in business marketing and management; 16 years as an Internet marketing professional; 10 years working in the field of SEO – As Director of Search Services for Click2Rank Consulting, Alan Bleiweiss oversees a team of dedicated professionals serving sustainable SEO best practices solutions. As a forensic SEO specialist, he has performed SEO audits on several of the largest and most visited sites on the Internet comprising tens of millions of pages and hundreds of millions of organic search based visits.
Since 2010 Alan has been a popular speaker at industry conferences including Blueglass Florida, SMX Advanced, SMX East, and the upcoming Pubcon Vegas. In 2012, he is already slated to be speaking at Pubcon Paradise in Hawaii. You can read his column at SearchEngineJournal.com, where he is one of the most read columnists, or follow his rants on Twitter @AlanBleiweiss.
###