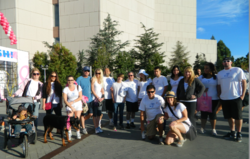 "I had a great time at the cancer walk and it was good being a part of it. I feel it is a very important cause – my mother is a cancer survivor," says Dede Knox Quality Control Supervisor at Morgan Drexen
Costa Mesa, CA (PRWEB) October 14, 2011
The sun was shining on Sunday as 10,000 pinked' out walkers hit the streets of Costa Mesa. Making Strides raised more than $60 million nationwide in 2010 to help people with cancer get well and to fund much needed research into the disease. In 2011 the Orange County event raised a staggering $240,000.
Morgan Drexen CEO Walter Ledda says, "As a local business we feel it is our responsibility to support not only local charitable organizations but also national charities. We all know someone who is affected by cancer in some form or another and research into the disease is crucial."
Morgan Drexen provides integrated systems to law firms nationwide and is part of the Software and Information Industry Association (SIIA). "Our automated platforms allow attorneys to work through complex documentation with speed and accuracy leading law offices nationally to a paper free existence," adds Ledda.
"I recently lost my dad to cancer and he will be my inspiration in the future to help find a cure for this debilitating disease. I have always donated to the cause but being part of the Making Strides event was truly humbling, being surrounded by volunteers, walkers and survivors of cancer," say Morgan Drexen Vice President of Media Relations Raychel Harvey-Jones.
"I had a great time at the cancer walk and it was good being a part of it. I feel it is a very important cause – my mother is a cancer survivor although not breast cancer - I was very happy to see so many people in the community coming together for it," says Dede Knox Quality Control Supervisor at Morgan Drexen.
Morgan Drexen walked with a 30 plus strong walking team including executives and their families and pets alike.
To assist with the parking at the event many local business including Experian and Morgan Drexen opened their employee parking areas to admit volunteers and walkers free of charge.
Morgan Drexen Petition Processor, Theresa De Dios, raised the highest amount of donations for the team through friends and colleagues. "When one of my godmothers found out that she had breast cancer. I was so sad I did not realize that the healthiest human being that I know could get this disease. I honored her during the walk.
Top fund raising teams included Boeing Team, Quest Diagnostics, BSH Cure Crew, and the Boobies Brigade.
Morgan Drexen Vice President of Servicing Mark Kruitbosch says, "Being involved in a good cause helps others who are suffering dreams and wishes come true. Getting involved is the only way we come together and help each other. Every contribution no matter how big or small helps fight against something that hopefully one day there will be a cure for. It is important to me to be involved because I have seen people I love and care about suffer through such crippling disease. Being involved brings me hope that one day there will be a cure for cancer."
In addition prior to the event Morgan Drexen and its employees participated in Lee National Denim Day with all donations benefiting the Women's Cancer programs of the Entertainment Industry Foundations (EIIF). Morgan Drexen employee's raised $625 and were thrilled with the chance to wear jeans for a day in a normally corporate environment.
Sponsors of the event included LA Fitness, Arnel Management, Beckman Coulter Foundation and Beauty Encounter.
###