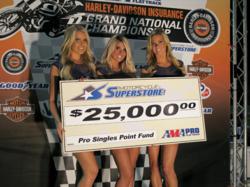 (PRWEB) October 13, 2011
On Saturday, October 15, the Motorcycle-Superstore.com AMA Pro Singles Grand National Flat Track season will come to a dramatic close at the Pomona Half-Mile in Southern California. The AMA Pro Singles Grand National Champion is yet to be determined, and with a points fund of $25,000 up for grabs, riders will be laying it all on the line in this intense final battle. The race will be followed by the AMA Pro Racing Flat Track Banquet on Sunday, which will celebrate the closing of another wild season of Flat Track action.
With the point standings in each of the three flat track classes almost neck and neck, spectators can count on incredible racing this Saturday. In the Motorcycle-Superstore.com Pro Singles class, three riders are poised to potentially take the title this season. Michael Martin currently leads the pack, with a total of 303 points, but both Michael Avila and Gerit Callies are close enough to win it all with 289 and 288 points, respectively. The rider who finishes the Pomona Half-Mile race in first place will be awarded 23 points. So, with a little luck, Avila and Callies still have a solid shot at the title. Fans will have the opportunity to get a behind-the-scenes look at the bikes and meet the riders prior to the action, as pits will be open between 5:15 p.m. and 6:15 p.m. With everything on the line in this final round of racing, this weekend's event will be one for the record books.
The season finale banquet will be held on Sunday, October 16, at the Radisson Suites Hotel in Covina, California, where the $25,000 Motorcycle-Superstore.com Pro Singles Point Fund will be awarded to the top six riders in the Motorcycle-Superstore.com AMA Pro Singles class. The rider who finishes at the top of the points standings will be presented with a $10,000 check; second place receives $5,000; third place gets $4,000; fourth place is awarded $3,000; fifth place earns $2,000; and the sixth place rider receives a $1,000 check.
Tickets are available right now at http://www.flattrackfinals.com, or by calling (888) 718-4253.
About Motorcycle-Superstore.com:
Motorcycle-Superstore.com is the leading online retailer in the motorcycle and powersports industry. Serving motorcycle riders for over 12 years, Motorcycle-Superstore.com specializes in selling motorcycle helmets, riding apparel, accessories and parts. Internet Retailer Magazine has ranked Motorcycle-Superstore.com in the top 10 of all sporting goods sites and in the top 200 of all e-commerce sites. Powered by a dedicated staff of motorcycle enthusiasts, Motorcycle-Superstore.com continues to impress customers by constantly raising their online shopping standards. Visit http://www.motorcycle-superstore.com.
###