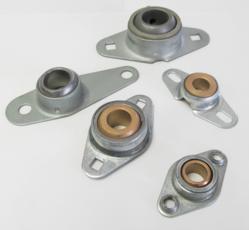 Oshkosh, WI (PRWEB) October 13, 2011
Triangle Manufacturing manufactures an extensive standard line of self-lubricating bearing mountings, HVAC brackets and revolving turntable bearings, however customization is where they really stand out. Triangle can now modify mounting holes into slots or squares, adapt the shape of the mounting for specific applications or add threaded extrusions. With custom-made components making up most of Triangle's design and production, they have mastered the art of alteration after almost 100 years of customizing parts for some of the largest companies on the globe.
Triangle reengineers standard designs with custom mounting holes, coatings, materials and more. Along with a wide selection of bearing materials, such as iron, bronze, nylon or even wood; Triangle can now provide customized mounting holes. Slotted, square, or round mounting holes are available on Triangle's flange or pillow block bearings. New threaded extrusions can speed up assembly times, leading to additional cost savings.
As an example, Triangle created a brand new elongated flanged mount that has been custom designed for an international lawn and garden equipment manufacturer. Due to the precise mounting specifications required, Triangle altered a standard flange by adding an elongated end that will allow mounting to the existing machine frame. This new alteration allows the flange mounted bearing to fit in seamlessly with the rest of the machinery without the cost of creating a clean sheet machine frame.
Triangle habitually adapts components and designs to various industries; from making clamshell mounted bearings adjustable for conveying systems or creating a heavy-duty pillow block mounting for more rustic, agricultural applications. It is much more efficient to tweak an existing design instead of designing a new, similar part from the start. This new customized part showcases an ease with customization, something that is earned after creating almost 10,000 parts in just about 100 years.
At their core, Triangle makes custom components that require problem-solving and a creative, intuitive design. Triangle can alter any current products, or create a completely custom part to fit most industries or applications.
About Triangle Manufacturing
For almost a century, Triangle Manufacturing Company, located in Oshkosh, Wisconsin; has used creative engineering, technical know-how and advanced automation to be the leader in fully customizable metal fabrication, product innovation and invention. They have introduced and redesigned fresh products that are progressive in their respective industries. Triangle can design, produce and ship lazy susan bearings, HVAC components, rod ends and custom mountings for direct- drive and belt-driven motors.
###