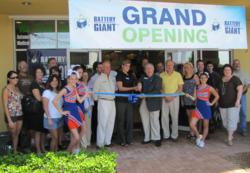 "Our partnership with Brittany represents a significant accomplishment for Battery Giant in developing our market share in Florida and becoming the first female-owned enterprise in our network." says Greg Danziger, President, Battery Giant
Sterling Heights, MI (PRWEB) October 13, 2011
Battery Giant Franchise, LLC is excited to announce the official grand opening of its first franchise retail location in Florida. Brittany King, President and Store Owner, selected 2311 Santa Barbara Blvd, Unit 104, Cape Coral, Florida, as her new store location. The Florida grand opening was held Saturday, October 1st and was a tremendous success, with Mayor, John Sullivan attending to do the official cutting of the ribbon. "Cape Coral has been wonderful to us with our new store. We are very pleased with the response we have gotten since opening our doors," says Brittany King.
The store set a record in the Battery Giant franchise retail chain for grand opening day sales. "We have been delighted by the very positive response we've received from the Cape Coral business and residential community," said Bill King, Treasurer, Battery Giant SWFL. Brittany, originally from Michigan relocated to Florida to start her business. She is the first female-owned Battery Giant Franchise. She hopes to be a leader in the battery industry, inspiring other women who are looking to start a business to step outside of their comfort zones and learn about the emerging battery industry.
Greg Danziger, President of Battery Giant commented, "Our partnership with Brittany represents a significant accomplishment for Battery Giant in developing our market share in Florida and becoming the first female-owned enterprise in our network. Brittany is poised to become a leader with Battery Giant, and we look forward to growing our presence in Cape Coral and Southwestern Florida." Danziger said when considering where to start her business, Brittany decided that she would take the success Battery Giant has experienced in Michigan south into the Florida market, where there are many exciting opportunities for her to grow in the battery business.
Headquartered in Sterling Heights, Michigan, Battery Giant currently operates eight franchised retail locations in Michigan, Illinois, Arizona, Ohio, and Florida. Battery Giant carries a wide range of replacement batteries and products for over 100,000 electronic devices, plus offers an electrifying business opportunity for franchise ownership in the ever-expanding battery market. With more than a decade of service in retail battery sales, wholesale distribution, telecom engineering, stand-by power systems, and mobile equipment power, Battery Giant provides the most innovative and cost-effective solutions along with fast, friendly and knowledgeable customer service.
For more information about Battery Giant and our energizing franchise opportunities, visit the website at http://www.batterygiant.com or call Greg Danziger, President, at 586-446-9502, ext. 243.
###