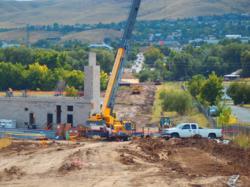 It is probably one of the most unique projects our firm has ever worked on
Golden, CO (PRWEB) October 15, 2011
For years, all employees and visitors have entered the National Renewable Energy Lab (NREL) in Golden, Colorado from the hard to find Denver West Parkway. And when employment at the lab jumped to over 1000 on campus, employees had to be bused in from parking lots located 1 mile away. Sometime in the spring of 2012, all of that is going to change for the better.
"It is probably one of the most unique projects our firm has ever worked on," said Rick Behning of Baseline Engineering, a Colorado based civil engineering and planning firm. "If designing a state of the art 135 foot roundabout wasn't enough, we had three floodplains to cross and several different jurisdictions and agencies to bring together."
The project was a coordinated effort between the Department of Energy, The Alliance for Sustainable Energy, NREL, Jefferson County, and Pleasant View Parks and Rec District. A lot of others had a say too. Input and approval of the project came from agencies including CDOT, the City of Golden, the City of Lakewood, FEMA, Metro Districts, RTD, and XCEL Energy. There was also a condemnation process and five private property owners involved.
Baseline had to bring in experts from almost every department of the company to execute the project. "We had our land planning expert handling public outreach, our floodplain manager working on stream modeling and the bridge, surveyors dedicating right of way, and several engineers doing design," said Behning. Baseline provided start to finish involvement from field surveying, transportation planning, NEPA Phase work, Right-of-way acquisition, hearing representation, construction plans, to survey staking and construction oversight.
But it was getting the project on paper for construction that took the most expert care. "Think of the agencies that had to come together and agree on one solution. We developed four access options at first," said Vince Harris of Baseline's Land Planning Group. "And as we moved forward on the Moss Street alignment, it wasn't without permit issues to overcome. There were wetlands and environmental issues including a hawk's nest we had to avoid."
And the roundabout design process would make your head spin. "This roundabout isn't just any old traffic circle," said John McLain, President of Baseline. "There is a real science to designing a functional roundabout. We take into account the quantity of traffic, design speeds, angle of approach, superelevation and inertia to create smooth traffic flow." South Golden Road sits at an angle to Moss Street and yes, he did say inertia. Apparently it is rule number one for the traffic to maintain inertia. "I understand why the public hasn't quite warmed up to the roundabout idea yet. There are a lot of them that are just slapped in an intersection without analysis. There is a real art to getting it right."
Harris added, "We actually had to take a 'LEGO' approach to our design due to a 20-inch gas main running beneath the roundabout. If the gas company ever needs to repair that line, the center of the roundabout comes apart in pieces rather than having to deconstruct it."
Now that is cool. Any of us who played with Legos as a kid could only dream our creations could actually be practically applied to the real world. Baseline certainly has a passion for what they do, and as their website says, a 'passion to solve problems.'
###