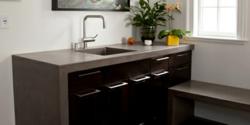 " Our GFRC Face Mix System is advanced, yet very user-friendly." - Steve Thomas
Dade City, FL (PRWEB) October 17, 2011
SureCrete Design, a Florida-based concrete manufacturer, announces Glass Fiber Reinforced Concrete (GFRC) Face Mix. This high early strength concrete casting product, which is part of the Xtreme Series technology, delivers the industry's maximum compressive strength, 10,500 pounds per square inch. XS GFRC Face Mix is a sprayable or packable material and when applied correctly, has the capacity to take on a textured feel and appearance. The start up cost for this GFRC system comes in at under $150, and has been described by SureCrete's owner, Steve Thomas, as "advanced, yet user-friendly."
XS GFRC Face Mix can be used for the creation of concrete countertops, wall panels, architectural trim, exterior casing and facades, concrete bath tubs, shower walls, fireplaces, and custom concrete furniture pieces. Benefits of SureCrete's XS GFRC Face Mix include: lighter weight construction, high early strength, 5 times the flexural and tensile strength of concrete, limitless designs, textures and colors.
Based in Dade City, Florida, SureCrete Design is a manufacturer of decorative and specialty concrete supplies. High-quality, easy-to-use products created by SureCrete Design can reduce overhead expenses by simplifying decorative concrete techniques and reducing costs of labor as well as materials. SureCrete Design is an industry leader in decorative concrete field, fusing technological advances with proper installation methods for over 10 years.
SureCrete Design's product lines consist of: concrete overlays, countertop mixes and supplies, lightweight concrete casting materials, concrete coatings for vertical applications, acid and water stains, waterproofing, and sealers.
SureCrete Design's Mission Statement:
SureCrete Design is an industry leader in the manufacturing of surface management solutions for: floors, walls, ceilings, and countertops. SureCrete products are designed to deliver commercial grade strength, faster application, and are environmentally friendly.
###