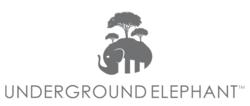 "We stand behind the Elephant Nature Foundation's mission to inspire change and are dedicated to helping the organization fight for the rights of these mistreated and often ignored creatures."
(PRWEB) October 13, 2011
Underground Elephant, a performance-based digital marketing company and recent recipient of the San Diego Business Journal's Fastest Growing Private Company award, today announced a partnership with the Elephant Nature Foundation, a non-profit organization specializing in raising awareness for and advocating on behalf of Asian elephants in Thailand. Through the partnership, Underground Elephant will cement its commitment to defending abused and endangered elephants on an international scope.
Underground Elephant further demonstrated its dedication to the foundation by unveiling a newly implemented strategic elephant adoption program for all new clients. This program awards schools and businesses by fostering an elephant in their name for one year. Participating clients will receive personalized photos, status updates and feedback regarding how their funds are being utilized to improve their fostered elephant's lives.
The partnership builds on the company's history of supporting endangered elephants. In 2009, Underground Elephant partnered with international wildlife specialists the Born Free Foundation and its sister charity, Born Free USA to help prevent the abuse of elephants in captivity and raise awareness about the detrimental effects that poaching has on their chances for survival in areas such as West Kenya.
"From neglect and starvation, to exploitation and abuse, the condition of endangered elephants across the globe is atrocious. We seek to change this, one life at a time," said Jason Kulpa, CEO of Underground Elephant. "We stand behind the Elephant Nature Foundation's mission to inspire change and are dedicated to helping the organization fight for the rights of these mistreated and often ignored creatures."
Sangduen Chailert, the founder of the Elephant Nature Foundation, has been featured in several documentaries by broadcasting stations such as BBC and Animal Planet, and was honored as a Hero of the Planet by the Ford Association in association with the National Geographic in 2001. Through the Elephant Nature Park, the non-profit's elephant sanctuary, Chailert hopes to bring her message to people globally and continue to provide a safe haven and rehabilitation for abused, mistreated, and neglected elephants.
About Underground Elephant
Underground Elephant specializes in bridging the gap between clients and consumers through vertical-focused, performance-based marketing. Through its proprietary comprehensive technology platform, NeoKeo 2.0™, the company provides a comprehensive campaign management approach that combines cutting-edge technology, data-driven analytics and continually optimized media.
About Elephant Nature Foundation
Elephant Nature Foundation is a non-profit organization which advocates and acts on behalf of the rights of Asian elephants in Thailand. Their mission is to increase awareness about the plight of the endangered Asian elephant, educate locals on the humane treatment of their elephants, and provide sanctuary for rescued elephants at our nature park.
# # #