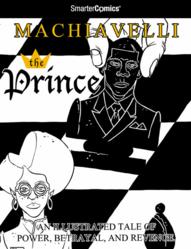 Human beings are captivated by the allure and the art of power. How we can achieve it? How we can keep it? Sander Pieterse, Creative Director at SmarterComics
(PRWEB) October 14, 2011
When Niccolo Machiavelli penned The Prince in 1532, little did he know that his ideas, such as, "It is better to be feared than loved," would define the way one viewed power in the modern day. Machiavelli's text, despite being immensely influential, is imbued with complex language that would likely perplex the majority of casual readers.
SmarterComics' The Prince, by Niccolo Machiavelli, is set to release October 14, 2011 on Kindle. Known for its easy-to-read, aesthetically pleasing formats, SmarterComics strives to combine the visual power of comics with text to ultimately have fun while getting smarter.
SmarterComics is a firm believer in its mission statement, "Because reading is important, reading takes time, and time is scarce. A summary comic version of important books is the perfect solution for people on the go who want to get smarter and have fun in the process." The Prince, as adapted by SmarterComics, essentially trims the fluff and leaves only the essential nuggets of wisdom for the reader.
For centuries, from Adolf Hitler and El Jefe Trujillo to businessmen, conquerors and kings, the potential for power has propelled individuals to outright barbarism and chaos. Power is closely linked to betrayal and revenge; however, The Prince presents a set of guidelines that have been affirmed time after time. For instance, those who acquire power solely by fortune will be hard-pressed to retain it when their fortunes change. Machiavelli states, "Above all, a Prince must live amongst his people in such a way that no unexpected circumstance—whether good or ill—shall make him change."
With the emergence of cyberspace in the 21st century, the definition of power is constantly evolving, requiring that individuals step into the world of Machiavelli's The Prince and reacquaint themselves with guidelines that will assist them as they ascend to different stations of power.
Available on Kindle, SmarterComics' The Prince, by Niccolo Machiavelli, is entertaining, empowering, and a marvelous adaptation of perhaps the most compelling treatise on power in recent history.
###